Warm From The Feet Up
There's nothing worse than feeling cold, especially at home. With efficient central heating this is not something we suffer often these days though the cost of fuel often stops us putting the heating on full blast.
A recent comment from a friend got me thinking. "When we move we will build a new house. Now that we've lived with underfloor heating, I don't think I could bear not to have it."
It's true that underfloor heating is a blessing, especially in the bathroom. But are her comments a little extreme? Maybe if I'd experienced electric underfloor heating I wouldn't think of questioning it. But do you really need to build a new house to install it?
Just how easy is it to install?
The simple answer to the previous question is no. You don't need a new build to install underfloor heating.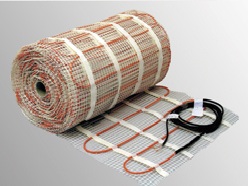 But how easy is the installation?  In truth it's fairly simple to put in and cheaper and less complicated to install than traditional central heating. Though of course it has to go under the flooring, but this isn't necessarily a problem.
Electrical underfloor heating comes in lengths of mat or foil with the heating elements woven through them. Insulation boards are also available to retain the heat. It's easy to connect to your power supply and control your heating with a digital timer.
The benefits
The first benefit has to be constantly warm feet. Following closely is the fact that underfloor heating can be up to 40% cheaper than heating via radiators.
The third important factor is that there are no cold spots in the room! The heat is distributed evenly so that you can be warm everywhere in a room.
This also means you can often lower the output and conserve energy/save money too. No wonder its cheaper to run than traditional heating. You will also free up wall space which is often crucial, especially in small rooms. Remember it's also cheaper to install underfloor heating than to replace an existing radiator system.
As it isn't connected to any pipes, there are no fears of leaks. And as all connections are in one place, it's relatively simple to locate and deal with any maintenance.
Now I get it. If you'd lived with this luxury, you wouldn't want to move anywhere that didn't have it. Or you'd want to install it as soon as you got there.
The bathroom
Even just making sure your bathroom had underfloor heating would be a blessing. Imagine stepping out of the bath or the shower onto a heated floor. Absolute bliss.
If you decide it's the full Monty (whole house) for you; you won't be disappointed as it costs less than a traditional heating system and will ensure you're warm everywhere – wherever you are in the house.