Need the bathroom? Use the latest app – AirPnP
A question for you: Would you be happy about perfect strangers coming in off the street to use your loo? Would you be happy to show off your loo come to that?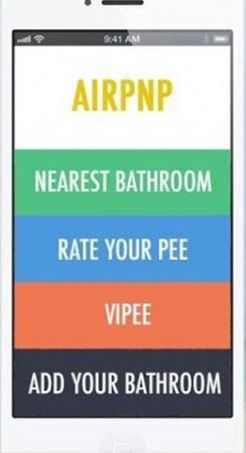 AirPnP came about when Max Gaudin recognised the lack of public facilities at the Mardi Gras Festival in New Orleans. He devised the App so that anyone, anywhere could rent out their loo. Most hosts make a small charge ranging from around $1 – $20, which I guess is worth every cent if you're desperate.
You may think it sounds very American and not at all the sort of thing we would do here, but when you go to the official website you'll see that a number of places in the UK are listed. In fact it seems no matter where you are in the world, there's a good chance of finding one of these private loos for use. And the numbers seem to be growing. They claim that a bathroom on every continent bar Antarctica has been registered, to an overall total of 330; that's in just three weeks.
There are of course reviews of the best and worst toilets.
Becoming an Entrepeeneur
…Yes that's what it's called on their website. You are advised to:
Login with Facebook to add your restroom
Write a clever title, description, and price
Take some epic photos
Add your address
You're ready to flow. And make some money!
The Terms and Conditions make it clear that users of these advertised loos – found via the App on their dedicated website – pay the website. The website pays the provider taking a small fee for the privilege of advertising the facility.
Do you fancy it?
It's a very strange concept and another one made possible because of mobile technology. But if you live in an area where you think visitor overspill might be pleased to find the home comforts of your loo and are happy to have a possible stream of visitors, then this modern invention might be for you.
Is your loo ready?
If you want to take the plunge, make sure your loo is in good shape both functionally and hygienically. You don't want to be one of the black-listed ones. Equally, you'll need to be prepared to clean the loo regularly after your visitors have visited to keep your good ratings.
If this is just the odd visitor it will surely be no problem; but if you're perfectly placed for festival or fair visitors, or in a busy tourist area, this might take up more time than you think.
You also need to consider hand washing facilities, i.e. do you have a basin in your cloakroom? You will need to provide soap of some sort and hand drying facilities. Your charge needs to take these extras into account.
If you want to find out more checkout https://airpnp.co/.
And good luck!