Freestanding vs. Fitted Baths
Freestanding bath tubs are certainly back in fashion. With the production of modern roll tops built to resemble their Victorian and Edwardian ancestors, these baths have made a popular return.
Similarly, modern contemporary designs are producing sleek freestanding tubs that make just as much of a statement as the old style ones.
But if you had the choice, would you opt for a freestanding tub or stick with the long-popular built in kind?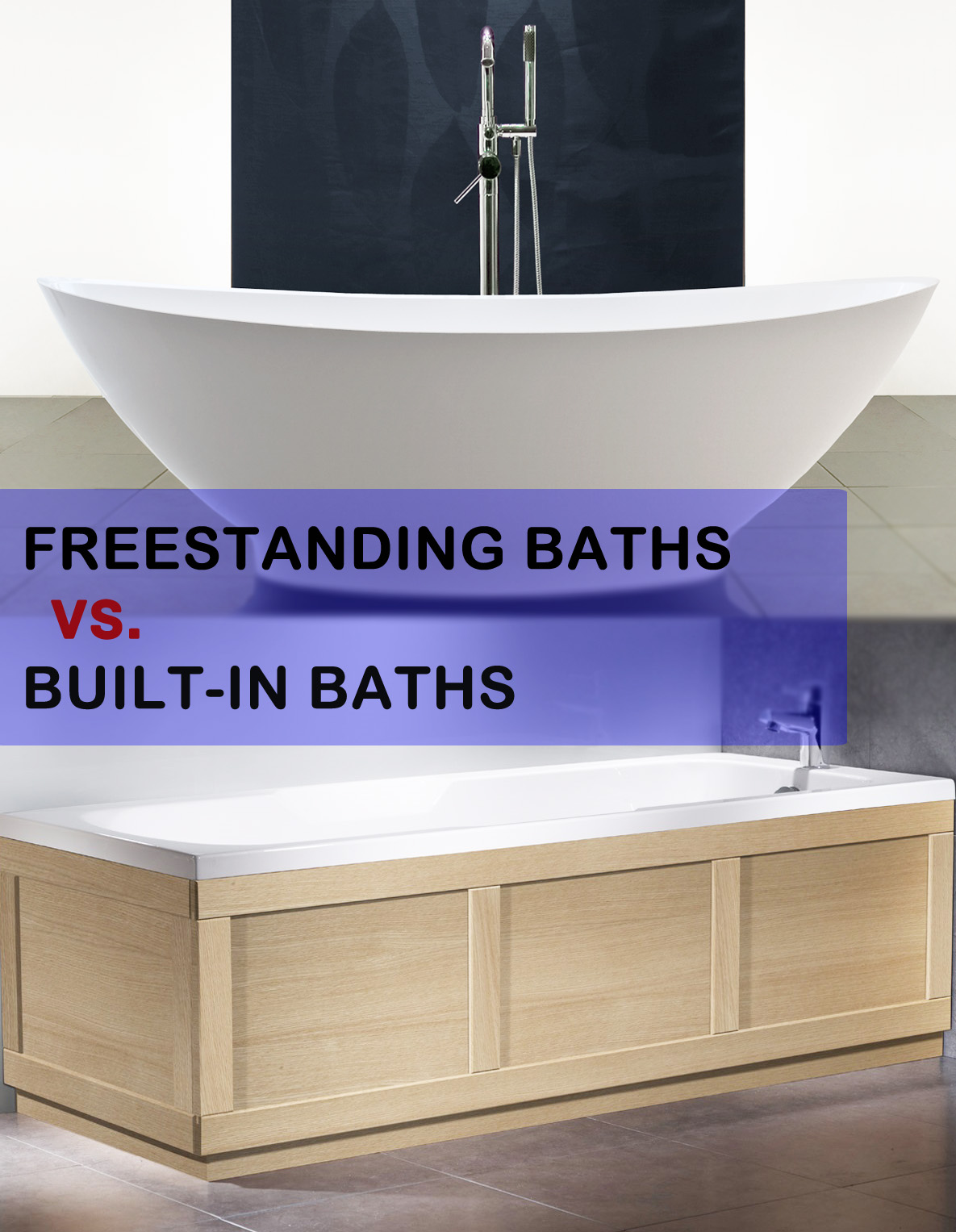 The pros and cons or a freestanding tub
The first positive thing about a freestanding bath is the statement it makes. It becomes the eye-catcher in your bathroom and gives it a real designer look.
Freestanders also look best when you have plenty of room. They may fit snugly into smaller spaces, but you can lose the statement element.
A freestanding bath is the epitome of style; the staple of a luxury bathroom. If you want your bathroom to have that designer edge, then this style of bath is a must-have.
There 's also a wide variety to choose from, whether it's traditional style or modern designer. Many come in a variety of cool and desirable colour options – nothing like the colour choices of 30 plus years ago, we hasten to add! There is no avocado to be seen. But if you fancy an electric red statement bath, then it's yours for a price.
Cons of the freestander
Often freestanding baths are more expensive. Of course if you've set your heart on one or have a particular design style in mind, this fact is unlikely to change it! They also tend to be of higher quality and more durable, so you get what you pay for.
They need a firm floor as they're often heavier than built in ones – worth checking before you install.
You'll definitely need a professional plumber to ensure that all the plumbing is concealed – no panels to hide behind with this style.
Taps and showers attachments are floor standing for freestanding baths; price is another consideration, taps and bath fillers tend to be more expensive for this style too.
You'll need good access all around your freestanding bath to clean the outside of it and mop up any floor splashes. This sort of rules out wedging it into a smaller space as well.
The built in bath
The built in bath is completely functional and can look very good. It is unlikely to make a statement like a freestanding one but is probably easier to keep clean.
It also counteracts all a freestanders 'cons' too i.e. the taps are cheaper and the plumbing is easily hidden, so installation is likely to be simpler too. And of course the bath itself isn't as heavy nor as expensive as the freestanding ones.
A built in bath can take advantage of storage space in the sides or ends of the bath, and also on ledges around the bath which are always useful.
A matter of taste
In the end it comes down to personal taste and budgets. Not everyone wants a statement piece in the middle of the bathroom. Not everyone is graced with the capacity for a stand-alone bath. And equally many still prefer the tidiness and practicality of a built in bath.
Which would you choose?