Unique bathroom accessories
Accessories can not only make a bathroom design, but also break a bathroom design.
We've discovered a mixture of weird and wonderful bathroom accessories via the Internet. Some are interesting and practical, whilst others are scary, impractical and a few are even downright ugly! Would you entertain any of the following in your bathroom?
Do I really need a toilet roll holder?
You may not feel you need a dedicated toilet roll holder, but you definitely need toilet roll in your bathroom, en suite and cloakroom. If you happen to have a toy dinosaur lying around (who doesn't?) you can emulate this nifty idea. Just make sure you remove the toilet roll before it is plunged into the bath by eager children. Dinosaur not to scale, obviously.
So we've definitely established that we need somewhere handy to house the toilet roll. The toy dinosaur may not be fitting for your period style bathroom, but this upcycled idea could be. All you need is a pair of vintage boots and two vintage rolling pins and you have yourself a quirky toilet roll holder.
Where did I put my wine?
Nothing beats relaxing in the bath than with a glass of wine, but where on earth do you rest your vessel when you're not downing it? You could attempt to rest it on your bath's narrow and possibly cluttered rim or perhaps even on the floor. But how about this ingenious idea that utilises the tiled area around your bath? Well, it seemed like a good idea at the time…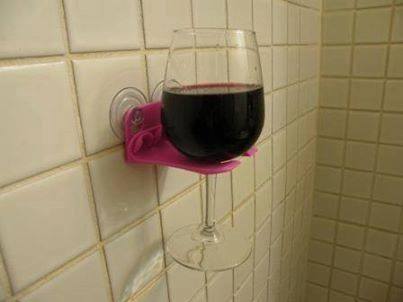 What shall I do with all those wine corks?
Now that your wine glass is in easy reach when bathing, there's no excuse to forgo drinking in the bath. But what do you do with the abundance of wine corks?  Fear not, this next DIY idea makes short work of corks and is slightly more appealing than the wine glass holder. Slightly being the operative word.
How do I liven up my shower curtain?
Plain, boring shower curtains that lack personality are a real problem in bathrooms. You could get all hands-on and decorate your own shower curtain, but why bother when Spinning Hat has done it for you?
DIY-phobes can get their hands on this delightful Blood Bath Shower Curtain via Amazon. And why wouldn't you? It's certainly a talking point if only for Halloween. But why stop at just the shower curtain when you can have the Blood Bathmat to complete the blood-drenched theme?
Looking for stylish, contemporary bathroom accessories? Head to Livinghouse for high quality ranges to suit both modern and period style bathrooms, shower rooms and wet rooms.