Making a statement
Are SplinterWorks' Miles Hartwell and Matt Withington the Heston Blumenthals of bathroom design? This hammock bath really twists expectations.
They pride themselves on building sculptural and theatrical pieces of furniture, but always with an emphasis on functionality. The hammock bath called The Vessel is no exception. Having this in your bathroom would certainly make a statement.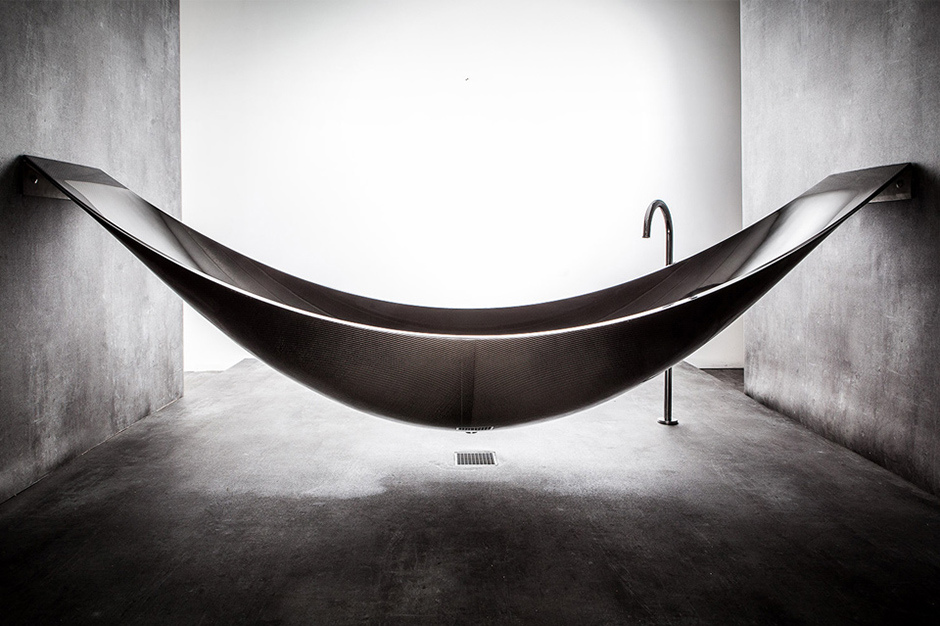 We all love a hammock
For some they remind us of sun-soaked days among the palm trees; for others a free lifestyle. But apparently they are one of the most comfortable ways to sleep. Sleeping in a hammock has been likened to being cocooned in the womb and encouraging deeper sleep. Certainly there are no pressure points to give discomfort.
Comfort of the hammock bath
Is the hammock bath as comfortable? Well there's every reason to expect that it is – including its long length of nine feet. Room for a tall one, or maybe two people to share!
It's designed to be attached to the wall on both sides using stainless steel brackets, but doesn't swing like its garden or beach counterpart. You fill the hammock via a floor standing faucet, and empty it from the bottom straight to a floor drain similar to those in a wet room.
The bath is made from a strong carbon fibre which is moulded to shape. This material makes it very light and able to hang from the walls. The bath also has a foam core which helps to insulate the bath and keep the water warmer for longer. It's also available in several colours: black, red, bronze, silver, blue, yellow and glorious pink.
A glittering shoe
Or perhaps you prefer the glitz and glamour of fashion accessories for your bath tub? Yes a glittering stiletto shoe! It's true, Italian designer Massimiliano Della Monaca has designed a shoe-shaped bath covered in glitzy glass mosaics fit for any would-be star … who already has the income!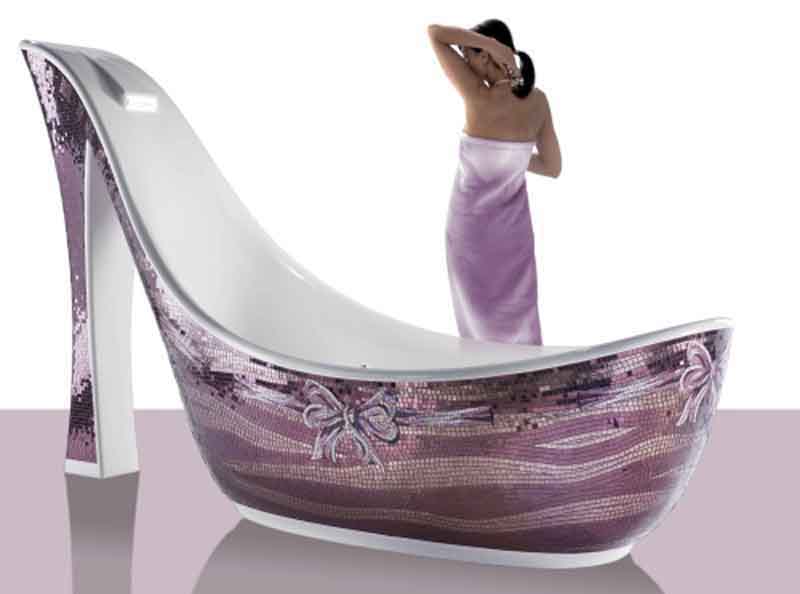 Spinning bath/shower
Maybe you'd love to try Ron Arad's Rotator Bathtub. It starts as a huge wall hung circular bath in which you can enjoy all the usual bath time pleasures. But the whole thing can revolves to become a standing shower. Clever! It was designed for Italian bathroom manufacturer Teuco.
More down to earth
Maybe you prefer a tub that has its feet firmly on the ground like the Luca, the Red Cleo or the Mini-Square? There are a host of contemporary bath tubs available which will all make a real statement in your bathroom.
If you prefer a nod to former days of glory then you will also find a great choice of more traditional looking freestanding bath tubs. There really is every choice for your preference.