A Bathroom Built For Two
According to The Telegraph, "Ideally, a bathroom should be a sleek sanctuary with a heated floor, dimmed recessed lights and matching towels on a warming rail. Two basins are useful, but as important are shelves, boxes and baskets." Not a bad summary for an ideal bathroom.
In an age when our new houses are smaller than those built in the 1920s and en-suites reign supreme, a bathroom designed for two people may seem extravagant.
But surely a family bathroom is designed for two or more people? — True, but they're not commonly suitable for two people to use at the same time.
One of the modern design elements of longed-for bathrooms is the double basin. These can be freestanding, wall hung, or countertop basins. They do look very modern and are certainly desirable from a design aesthetic.
There's a romanticism to the thought of having two sinks to stand side-by-side with your partner as you clean your teeth. But our bathroom ablutions on a day to day basis need to be far more functional. Isn't it about getting ready in as short a space of time as possible?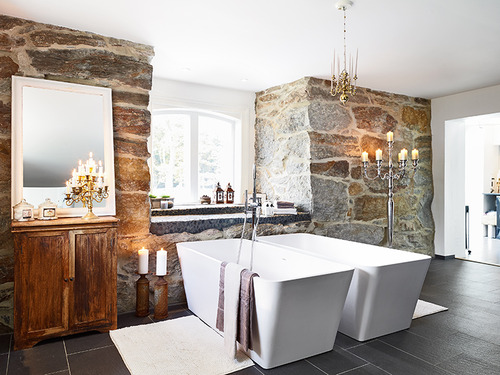 A bathroom made for two
So the double basin option becomes a facility to enable that morning rush. But what about the bath or shower?
There are many double shower options, from longer shower trays to glass panels for double walk-in's. This means two of you could shower together. Again, while the double shower often suggests a more playful nature, it could also be used as a great functional aid.
Double baths?
Taking the idea to the extreme is the double bath tub. For many homes given that modern houses are shrinking, the space to accommodate this design concept would be luxury in itself. In fact that is surely the case in many modern homes. For those with older or grander homes, it's not such a bad idea.
Side by side bathing in beautiful contemporary baths could be very cosy and look stylish too.
A new trend?
So will the double bath catch on in the way that en-suite bathrooms have? We guess that unless you have the space and the budget, this will remain exclusive rather than the norm.
The current trend seems to be to include as many bathrooms as possible. Most new builds include an en-suite for the master bedroom, a family bathroom and a downstairs cloakroom. Some take it one step further and put en-suites with as many bedrooms as possible. This isn't always as well received as expected; many would prefer more storage space in the bedroom rather than compromise to accommodate an en-suite.
It's true many en-suites are little more than a cupboard and if every room has an en-suite, who will use the family bathroom?