Get creative with 3D decorative wall panels
Fancy adding texture to your walls, but not a fan of raised wallpaper or traditional wall coverings? Why not opt for contemporary 3D decorative wall panels instead and make a truly bold statement that delivers maximum impact?
Available in 600mm tiles, 3D wall panels are made of traditional gypsum plaster and can be easily installed using traditional tiling methods. Regular plaster filler allows you to fill in the joints and create a stunning, seamless 3D wall installation. Cover as little or as much of the wall as you choose and personalise with household paint to integrate with your room design.
Here are several ways to get creative with this extremely versatile product:
Use as a feature wall
Feature walls are a great way to make a contained statement without going overboard on the overall room design. Predominantly the territory of wallpaper until now, feature walls have allowed us to flex our design muscles and experiment with huge graphic floral prints, stripes and metallics to name but a few. Although loved by TV makeover programmes, wallpaper tends to fall flat when it comes to texture.
3D wall panels on the other hand allow you to play with form and scale to create bold designs that usually inhabit the pages of lifestyle magazines. By highlighting their sexy 3D curves and cute angles with dedicated lighting, they bring exceptional drama to any décor.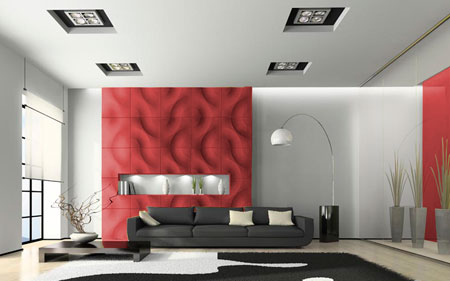 In the Groove in bold red makes an amazing backdrop to showcase contrasting coloured furniture.
Use to define zones
Open plan rooms, New York loft style apartments and barn conversions all need a little help to define the different zones contained within.
Traditionally achieved with furniture placement, colours and 'room dividers' of shelving or bookcases, 3D wall panels offer an attractive alternative. They are ideal for zoning and can define dining, lounging and sleeping areas by use of different textures. By painting them in a variety of colours you can also help to clearly define room boundaries too.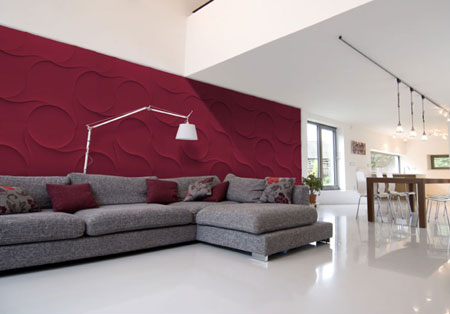 Solar looks resplendent in deep red and defines the lounge area from the dining area.
Use as an oversized headboard
This design trick is often achieved with wallpaper, but 3D decorative wall panels bring far more in the way of sculptural texture.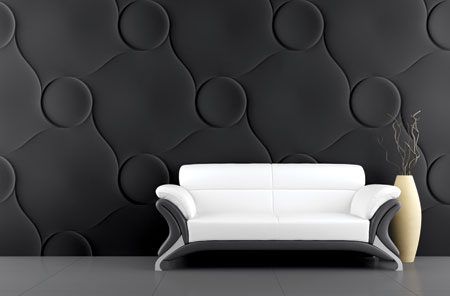 Quilted is perfect for bedrooms with its nod towards the quilting design used in upholstering and headboards.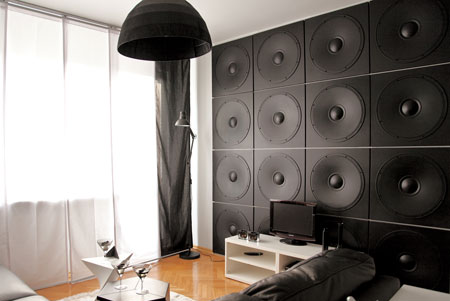 For a more masculine feel, Music Room's contained circular design emulates speaker fronts and works well as a repeated pattern from floor to ceiling.
Use to personalise a nursery or playroom
3D decorative wall panels featuring playful elephants are perfect for nurseries and playrooms. They make a stylish alternative to the Disney and Pixar movie themes our children crave that jar with our own design ideals. Paint in Disney-esque colours to placate the kids and repaint as their tastes change.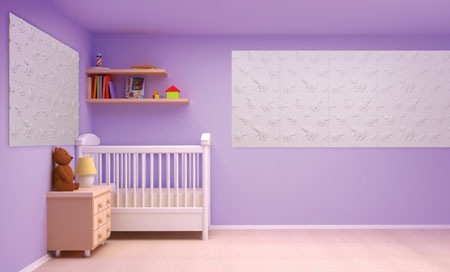 Dumbo makes a charming alternative to Disney themed décors.
Take a look at our introduction video here and get creative with scale and sculptural design.