7 Reasons to Choose a Wood Floor
Wooden floors have been beneath our feet in our homes for centuries. Early examples were made from oak and elm and varied in thickness because they were all hand cut. Later, pines and other less sturdy timbers were also used.
In recent decades, uncovering flooring in period properties and finding the gem of original floorboards has been many a homeowner's dream. Sanding, varnishing or painting became very popular and an aspirational addition for your home.
Thankfully now whatever age your home and whatever your original floor is made from modern wooden floors are widely available.
Beauty
Natural materials have a beauty all their own. Wood floors come in many different woods to give you a choice of colours and finishes. They off-set every room and what's more, they feel warm and smooth underfoot.
Livinghouse supply a great range of wooden floors either finished or unfinished and in a variety of woods. This basically means that the unfinished boards are to be treated with the finish you require at the time of installation.
Your choice of wood will dictate the colour base of your wooden floor; ranging from ash or maple for pale shades to walnut, oak and merbau for those deep, rich browns.
Variety
Solid wood floors are available in a number of finishes too from oiled, lacquered, antiqued, distressed, brushed and limed. They are supplied tongue and grooved for easy laying, and in a variety of widths.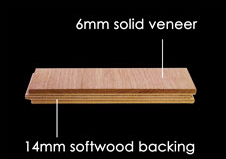 Engineered wood is made from a 6mm hardwood top that is bonded onto plywood. This is particularly good for older properties where the base may be a little unstable or if you want to install under floor heating. Like their solid wood counterparts, they can be supplied finished or unfinished and are tongue and groove fitted.
Livinghouse also supply parquet floors in traditional and modern styles. These come in both solid and engineered wood and in a variety of traditional and modern patterns.
Bespoke
All of these wood floors can be supplied to your needs in your choice of width and floorboard length for a seamless floor. What more could you want?
Style
The beauty of a real wood floor is that it goes with any décor style. So whether you are a traditionalist loving Persian rugs, traditionally patterned upholstery and comfy sofas; or even if you prefer minimalist chic with designer-cool furnishing; a beautifully finished wood floor will set off your style to perfection.
Longevity
Natural wood floors are made to last. Most manufacturers claim they will last as long as your house or at least 100 years.
Easy maintenance
With a little care, your wood floor can give you years of wear and pleasure. Sweep, vacuum and dust every week. Don't leave grit on the floor as it can cause scratches. Wipe up liquid spills immediately and only ever damp mop your floor – it doesn't like getting wet!
Soft rugs will help protect it, and ask those visitors to remove their stiletto heels.
Envy
If you want to be the Jones and have every one aspire to be just like you, your real wood floor will certainly escalate you to that level. Take a look at Livinghouse's range – you'll be spoilt for choice.