Spotlight on colour: Bathroom blues
Blue has long been a favourite colour for the bathroom. Probably because of the association with water and maybe the sky. Though the seas around the UK coast don't often wash up in shades of blue unless of course you are watching Charlie Luxton's Homes by the Sea. The Cornish coast in the first episode of this series suggested that the seas were a shining turquoise.
Why is blue a bathroom favourite?
Maybe our fascination with blue in the bathroom conjures up the blue of cloudless skies and seas in warmer climes? According to Color Wheel Pro, not only is the colour associated with these two natural elements but it also symbolises trust, loyalty, wisdom, confidence and heaven. And blue is supposedly beneficial to the mind and body. Now that makes sense; making a tranquil place where your mind and body benefit.
The physiological benefits
The tranquillity of blue is backed up by the fact that its physiological affects include reducing our heart rate and lowering our blood pressure as well as slowing our respiration. It's one of the ultimate colours for calming and de-stressing us.
More than one shade
Of course like most colours, blue comes in many shades. On Houzz, interior designer Jennifer Ott suggests you don't stick to the most obvious soothing shade but consider others in the blue palette. She is drawn to those shades which contain some grey or green mixed into the blue for instance. She doesn't dismiss darker shades either but reminds readers that these can make spaces seem smaller.
We've found a few examples of how to use shades of blue in your bathroom that we want to share with you.
We love this simply styled modern bathroom with a turquoise and white wallpaper reminiscent of breaking waves. For similar sleek bathroom fittings take a look at our wall hung toilets.
A more traditional approach embracing the whole seaside theme and one that has been popular forever includes seashells. This design mixes them with a traditional bath and industrial fittings.
The deep midnight blue works well in this cloakroom especially with cream tiles and the Venetian style mirror. This shade is pretty close to Pantone's autumn trend colour Reflecting Pond.
This ultra modern bathroom is given a touch of tradition with the patchwork of multi-patterned blue glazed tiles as a backdrop. For a similar round bath take a look at our Circulo or Polo designs.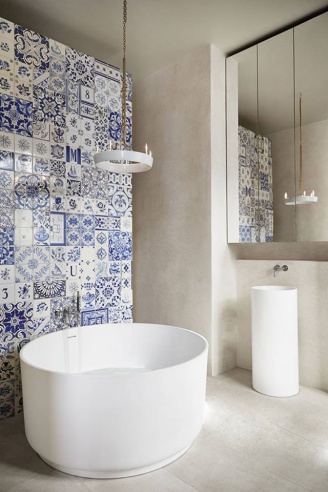 These dusky blue-grey walls are immediately soothing and the focus tends to be that amazing chandelier. Something to gaze up at whilst you soak.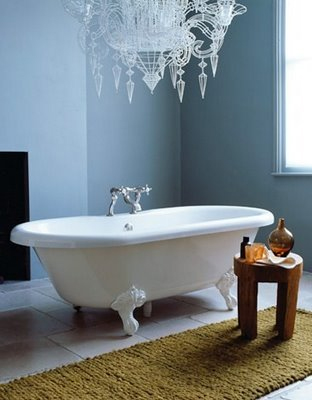 For a touch of Mediterranean splendour and dreams of Morocco this blue-turquoise tiled bathroom takes you right there.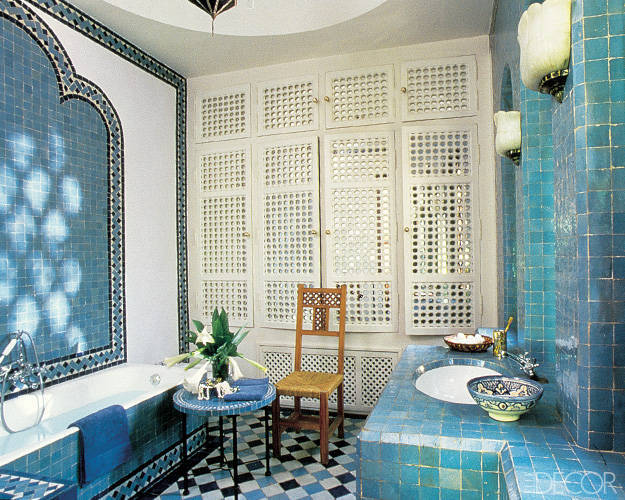 For a true under the water feeling, what about blue drifting into turquoise walls covered in swimming fish? If you're a real water-babe this maybe for you but if you have a fear of being under the sea then it's probably one to avoid.
We've got more tips for using colour in your home on our earlier blog.