Autumn Traditions
Leading into autumn, some of our thoughts turn to warm fires, hearty meals and seasonal celebrations. The first of these celebrations is Halloween, a tradition long celebrated in the United States but now taking hold more here too.
Origins
Ironically Halloween or All Hallows Eve as it was once named has its origins here in ancient Celtic ritual and Christianity.
The Festival of Samhain on 31 October celebrated the end of summer and the harvest. On this night our ancestors believed that the boundary between the worlds inhabited by the living and the dead were blurred. Ghosts were able to return to earth to play havoc with our lives and especially with crops on which we were dependent to survive the winter. The Celts wore costumes to scare the ghosts away.
In the 8th century Pope Gregory III made November 1st the day to recognise all saints and Halloween became all souls days – a day to remember the dead.
The pumpkin
The Celts originally occupied Ireland, Great Britain and parts of France. Immigration took the old beliefs to America. The idea of carved pumpkins or 'Jack-o-lanterns' came from Ireland where an old miserly man made several wagers with the devil on condition that he was spared going to Hell when he died. Trouble was they wouldn't let him into Heaven either. He wanders that region somewhere between life and death and when the barriers are very thin at Halloween people carved turnips in Ireland to frighten him away from their homes. In America it was natural to use large, orange pumpkins, a native vegetable.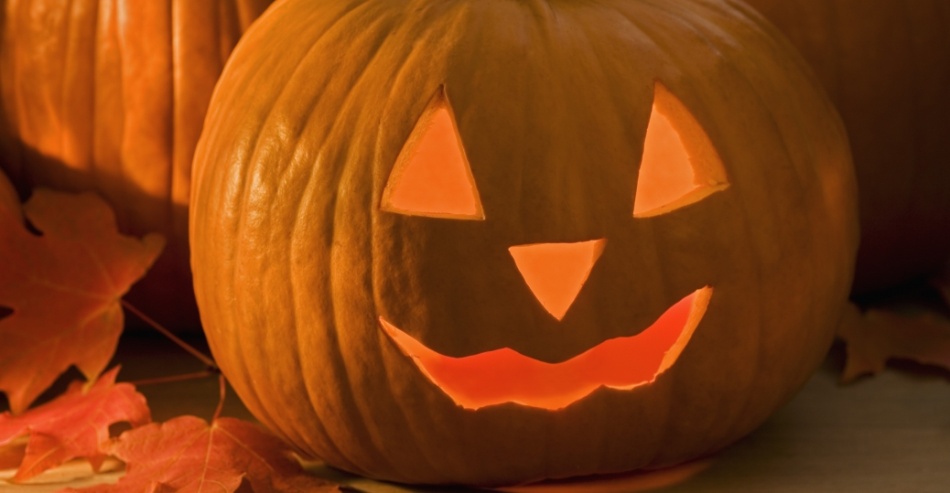 Halloween decorations
Carved pumpkins are the most common Halloween decoration seen all over the UK as well now. Most people just hollow out the pumpkin – big or small – and carve a scary face to keep those ghosts at bay. But you could be more adventurous.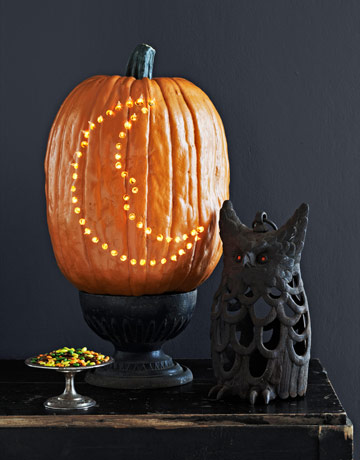 Try outlining a design rather than cutting out large pieces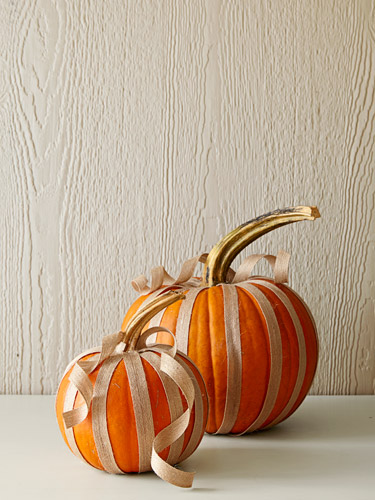 Tie ribbons around them – one of the simplest ideas we've seen
Take a smaller pumpkin and hollow it out to use as a candle votive for the table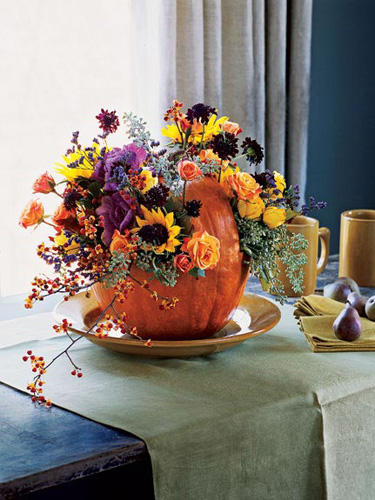 Hollow out a large pumpkin to use it as a vase for your Halloween table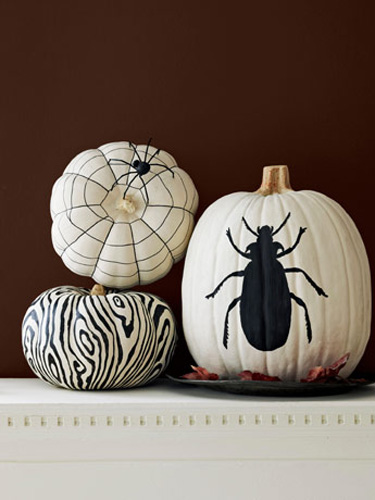 Try something more sophisticated like painting patterns on a pumpkin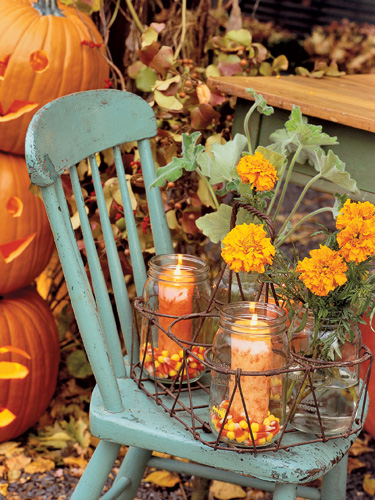 Or place an orange pillar candle in a mason jar surrounded by orange and yellow jelly beans.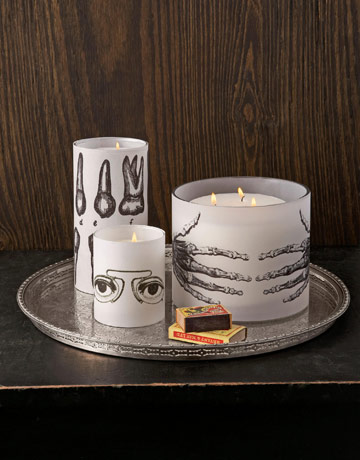 Decorate glasses to hold candles. Either draw or use copyright free images printed on paper. Cut paper to cut height of glass and long enough to just overlap around the glass. Secure with double-sided sticky tape. Job done.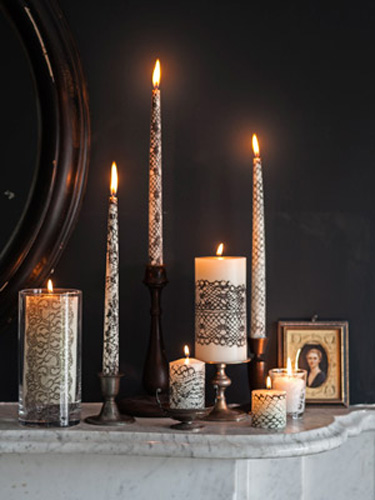 Or simply wrap your candles in lace which has been painted with non-flammable black paint.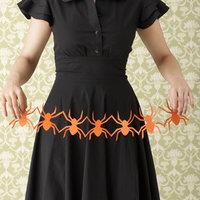 Make paper cut out chains of spiders, black cats or bats. Fold the paper into a concertina and use a template to draw your spooky creature of choice. Remember the paper must remain joined in two or more places. Open out to hang up.
Go simple and just create a display from pumpkins and gourds.
Remember to serve pumpkin soup or pumpkin pie!
And to stock your cupboard with sweet treats for visiting Trick or Treaters.
[All other images via Country Living]