Heating Your Bathroom
Heating your bathroom can be a tricky exercise. It may only be a small room, but generally wall space is limited and we all want warm fluffy towels these days!
The problem is that heated towel rails generally do not give a high enough output to heat the whole bathroom on their own.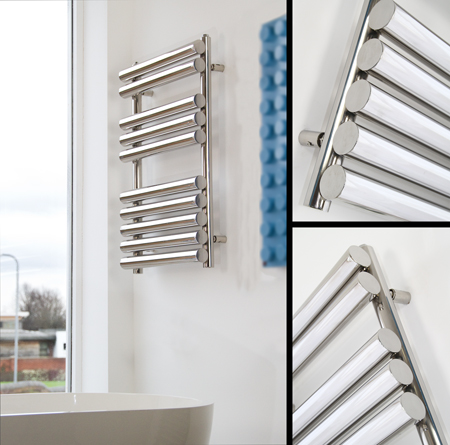 Therefore the choices are:
Choose a low output heated towel rail with a separate bathroom radiator. However, you would need to ensure there's enough wall space for both radiators, otherwise it may detract from the overall design.

Install a heated towel rail along with under-floor heating.  This will give the clean cut look of one visible heat source, with the added luxury of a warm toasty floor to step onto.

Fit a radiator with an added towel-bar attachment. This will give home radiator outputs with the practicalities of towel hanging and warming.

Choose a towel rail with a built in column radiator. This gives an extra heat output and towel hanging space.

Source a high output towel rail.  These heated towel rails are available but in limited designs.