Get creative with Victorian geometric tiles
Encaustic and Victorian geometric tiles look amazing when used to create pathways, or when used as flooring in hallways and interiors in general. But why stick to the norm when you can put your own spin on how they work in your room design?
Create the 'rug effect'
We all know how annoying loose rugs can be in the bathroom. If we're not slipping on them, we're tripping over them.
From a design point of view they can add interest through colour and texture, and highlight or punctuate certain aspects of the room. The 'rug effect' can be achieved by arranging encaustic tiles in a suitable shape and size to fit your space.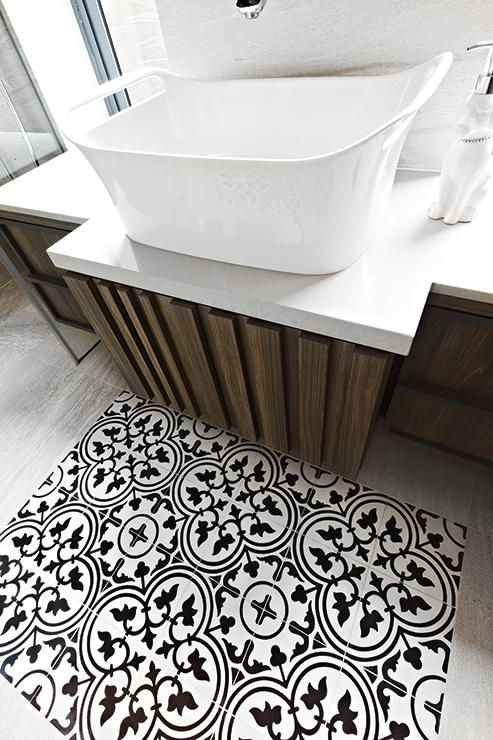 Accentuate features
Tiled splashbacks in bathrooms and kitchens are commonplace and essential. But instead of restricting tiles to just the immediate area behind the sink, why not tile the entire wall from floor to ceiling?
Creating an interesting backdrop with patterned tiles allows contemporary, chunky countertops and basins to standout by 'floating' instead of blending into the background.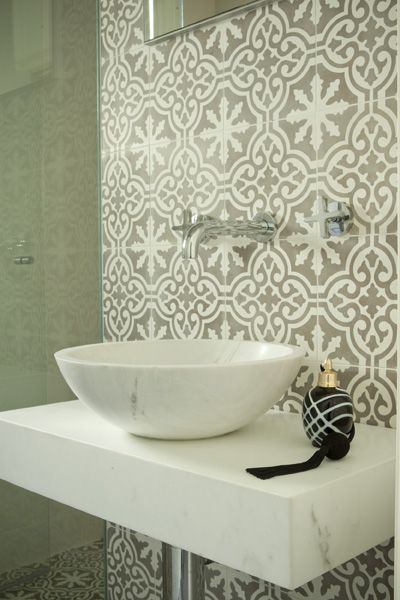 Make a statement
Statement or feature walls often take pride of place in our bedrooms and lounges, but there's also a place for them in the bathroom.
Commonly achieved with wallpaper, a statement wall in the bathroom can feature floor to ceiling tiles that are more suitable for this humid and damp environment.
Up the ante
Why stop at a statement wall when you can up the ante with matching floor and wall tiles? A subtle patterned tile is less likely to fight with your fixtures and fittings and work in harmony instead.
Balanced with a white ceiling and white walls, geometric patterns in a simple colour palette bring a certain je ne sais quoi without dominating the interior.
Know when to stop
Whilst it's sometimes hard to stick to the 'less is more' approach, knowing when to stop is paramount in interior design. We know, easier said than done when we fall in love with a particular pattern or colour way. The trick is to consider whether more of the same will accentuate or dominate your design.
If you love the idea of matching floor and wall tiles, but your pattern choice is bold, only tile halfway up the wall. This allows continuation of the design without it taking over and provides tile coverage where you need it most.
Pick 'n' Mix
Found the perfect tile, but haven't nailed down your pattern choice yet? Maybe you don't have to.
Whilst there are many practical rules when it comes to interior design, some are there to be played with, often delivering surprisingly good results.
Why not pick 'n' mix your favourite encaustic tiles to create a colourful eclectic floor and statement wall? Paired with plenty of white, even the smallest of bathrooms can sing.
Make an entrance
Arguably a pathway paved with encaustic tiles looks the business, but there is more than one way to make an entrance.
Light and airy interiors can carry off floor to ceiling walls adorned with bright, patterned tiles. Here a doorway leading to a predominantly white interior helps to break up the colourful design.
You'll find a great range of encaustic and Victorian geometric tiles at Livinghouse.