A walk on the tiled side
Just as your bed should be sumptuous and your sofa comfy, your home's flooring should be a treat for your feet. Stay cool underfoot in the summer with stone, terracotta, porcelain, granite and marble, and cosy in the winter with leather floor tiles.
Make an entrance
The Victorians and Edwardians knew how to make an entrance with beautiful encaustic tiles. From geometric to checkerboard patterns, hallway flooring was stylish and heavy duty.
Nowadays, encaustic tiles are manufactured to replicate the authentic patterns of these eras and provide a taste of the traditional that works well in both a classic and a modern hallway.
Choose from a vast range of gorgeous geometric patterns in numerous colours, including black and white, red and white, or green and grey among many others. Encaustic tiles are supplied with mosaic borders in zigzag, dogtooth and link styles to complement the overall design.
Did you know encaustic tiles also look great when used as pathways in gardens? You do now.
Living with leather
You may have enjoyed sinking into a few gorgeous leather sofas in your time, but did you know leather tiles are also available as flooring and wall coverings?
Suitable for both contemporary and traditional room designs, leather floor tiles make a lovely addition to lounges, bedrooms and studies, whilst providing a hardwearing, yet comfortable finish underfoot.
Opt for luxury leather tiles made of real hide leather and tanned in the traditional way as opposed to cheap reconstituted leather. Choose from a selection of sizes and colours, such as mocha, redwood, tan, nero, and tan and mocha combined.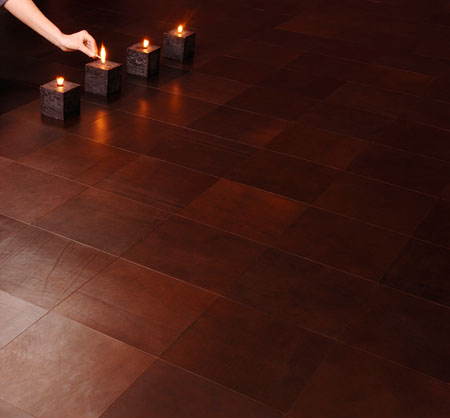 Versatile stone
Natural stone flooring is a favourite with the masses; appearing in kitchens, bathrooms, dining rooms, lounges and bedrooms, in fact almost anywhere in the home. And no wonder, with incredible good looks and enviable finishes, stone flooring is as beautiful as it is versatile.
Keep it traditional with natural limestone in honed, distressed and antiques finishes in a range of sizes, shapes and colours, including white, cream, beige and grey.
How about filled or unfilled low porosity travertine floor tiles with chipped, distressed and pillow edges, available in numerous sizes and colours, including walnut brown, grey, beige and cream?
Or traditional handmade terracotta floor tiles perfect for evoking a country feel?
Add a luxurious contemporary feel with hardwearing granite, low maintenance porcelain and marble tiles with stunning high polished finishes in a range of modern colours, including anthracite, mocha, chocolate and black.