Halloween decorations: ideas with curb appeal
If you're going to embrace Halloween by decorating your home's interior, then you may be tempted to extend the gesture outside. However, a word to the wise, whilst exterior Halloween decorations can look amazing they may also attract pesky trick or treaters. You have been warned.
Get meshed up
Door wreaths aren't just for Christmas you know. Easter and even Halloween are getting in on the act nowadays. So why not have fun making your own? Keep it classy in monochrome like Meshed Up Wreaths TK's Black and Silver Curly Deco Mesh Halloween Wreath, or go all out gory with blood splattered white ribbon and body parts such as faux severed fingers and eyeballs. Throw in a few homemade cobwebs, plastic spiders and a not so welcoming message and you're good to go.
Like a bat out of hell
Such a simple yet effective idea. Bats. Lots of them. Take a leaf out of HeidiHubub's book and create your own stunning 3D Black Bats (shouldn't take too long), or reap the rewards of all her hard work by purchasing a set of 25 from her Etsy shop.
Severed hands
The Hands Out Wall Hook by Interior Illusions is perfect for holding a little Halloween treat for trick or treaters. Fix to your porch wall and fill with a cute pumpkin, a faux brain, eyeballs or even sweets.
More than just window dressing
Why settle for a badly carved pumpkin when you can display a Diamante Skull by The Contemporary Home in your window? Should outdo the neighbour's cheap glitter version.
Pumpkin wars
Lit orange pumpkins on your doorstep or in your window are so last year. Why not upstage your competitive neighbour with these very contemporary takes on pumpkins?
Paint and adorn with decorative spikes for pumpkins with attitude. You can find Cuckoo 4 Design's step by step tutorial here.
Opt for matt black paint for a truly gothic feel.
Coat with gold spray paint or other metallic colours to add a touch of decadence.
Or cover them in metallic confetti – you can find Made in a Day's step by step tutorial here.
Suspended beauty
These are strangely beautiful and effective, but what are they you ask? Well, apparently they're water-filled balloons containing glowsticks suspended in white stockings. Who'd have thought those white fishnet stockings you bought for that fancy dress party would come in handy again? This idea shouldn't be too hard to replicate and hang from your garden tree…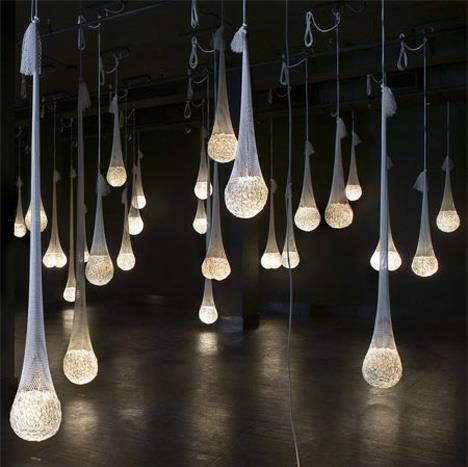 Blood, sweat and tears
Want to keep trick or treaters away? Then wiping your own paint-smeared hands down your window should do it. Alternatively you could save time and avoid the mess by buying a Spooky Blood Stained Hand Print Vinyl from NS Vinyls instead.
You'll find more seasonal decoration ideas on our blog.