Ceiling roses: the traditional and the not so traditional
Houses with their period features still intact often include exquisite ceiling roses and beautiful cornices. Ceiling roses bring decoration to ceilings whilst traditionally showcasing ornate chandeliers and cornices help to define interior walls, doors and windows. Despite their origin in the past, these design details work extremely well in both contemporary and traditionally styled rooms.
The last few years have seen the design-conscious experimenting with the function of ceiling roses within design. Not content with playing a supporting role to lighting any longer, the ceiling rose has become a statement piece in its own right. From wall art and feature walls to contemporary lighting installations, the ceiling rose has been used in both reassuringly traditional ways and excitingly unconventional ways to highlight its standout beauty.
Wall art
Oversized white ceiling roses hung on a chocolate wall provide a dramatic and contrasting effect in this modern bedroom with pleasingly results. The use of white, red and pale blue furniture helps to keep it from feeling anything but gloomy, despite its dark colour choice.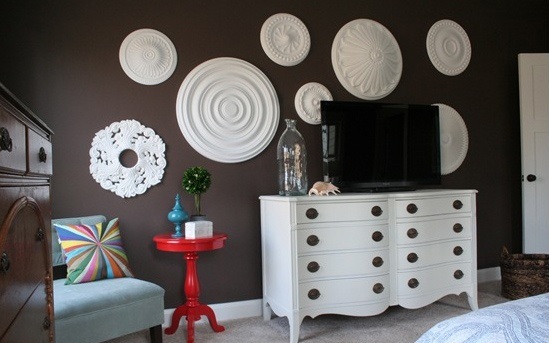 Ceiling roses painted in various shades of blue bring a subtle twist to the trend whilst complementing their surroundings.
A single ceiling rose creates an interesting focal point above this contemporary fireplace.
Lighting installations
Staying true to the ceiling rose's true function, Malamén Restaurant in Mexico City cleverly utilises multiple ceiling roses to house and hang modern lights from its ceiling. Grouped in various sizes and patterns, they enhance the very contemporary interior designed by Ricardo Casa. After all, why have just one ceiling rose when several can create an amazing design feature?
Although the extremely modern light bulb doesn't do anything for us (except save energy), the moody Farrow and Ball paint colour 'Down Pipe' gives this ornate ceiling rose a contemporary face lift which we love.
Feature walls
Multiple ceiling roses in a variety of sizes and patterns can turn an average wall into a feature or statement wall. By painting the wall and ceiling roses white, the overall effect creates texture and pattern without dominating the room.
In stark contrast, this restaurant has opted for a bold green feature wall and has maximised the textural aspect of the ceiling roses through carefully positioned lighting.
To create your own statement wall, source authentic ceiling roses or modern alternatives. Fix to the wall and paint in either the same colour or a complementary or contrasting colour to the wall to create your desired effect. Position lighting above or below the ceiling roses to enhance their intricate patterns and cast interesting shadows.
We think this would look amazing in any room, but especially in the bathroom with contemporary fixtures and fittings. If you're big on texture but not a fan of ceiling roses, why not opt for easy to install 3D decorative wall panels instead?