How Much Does It Cost To Fit a Steam Room?
Evolving the luxury in your bathroom has now become affordable. Installing a steam shower is a lot cheaper than one would think, as the majority of the costs would already be covered in the installation of the shower.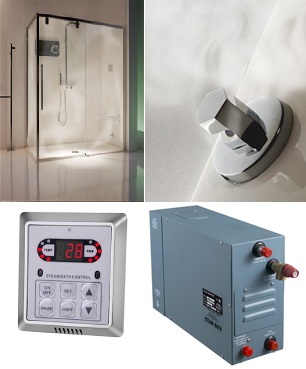 With the cost of a reliable high quality steam generator now starting from £697 +VAT; added to approximately a day's installation cost based on £180 a day; you could add a steam room to your existing shower for under £1000 +VAT.
Below shows you the estimated costs of installing a whole new steam room setup. The prices are based on the quality products supplied by Livinghouse.co.uk:
Steam Generator Kit
£697.00
The Oyster Frameless Shower Door in 10mm glass
£481.00
The Condo Shower Tray (including waste)
£245.00
The Fresh Shower Control
£149.00
Fixed Jumbo Shower Head
£159.00
Quality wall tiles 7m

2 

@ £25
£175.00
10mm Insulation Boards for Walls
£120.00
Tiling costs
£300.00
Sundries
£40.00
Plumbing and Electrical Installation costs
£360.00
Sundries
£90.00
Total ex Vat
£2,816.00
These costs are to be used as an educated starting point, but everyone's situation is going to be different.