Get creative with tiles
Pattern and colour can bring design interest to any interior. Play it safe with one pattern and a subtle colour palette, or create drama with clashing patterns and loud colours – the choice is yours.
Bathrooms, shower rooms and wet rooms predominantly feature wall and floor tiles but that doesn't mean you need to play by the rules. Here are several inspiring bathroom ideas that flaunt matching floor and wall tiles with stunning results to tempt you over to the dark side.
Think outside the box
Small spaces and busy patterns are not usually considered a good fit for fear of making an already cramped space feel smaller. But just as wallpaper feature walls in lounges, dining rooms and bedrooms create interest without overpowering the space, so can patterned walls in bathrooms.
Take the feature wall one step further by continuing the pattern in your floor tiling. By repeating the tile on both the wall and the floor, narrow and compact spaces will ooze design appeal. Obviously using patterned tiles on all walls will make the space feel cramped and oppressive, but what this design idea does brilliantly is to draw the eye from floor to ceiling and vice versa. This elongates the limited space available and allows your contemporary or period style bath to shine.
By balancing the design with a white ceiling and plain white tiled walls, the bathroom will remain light and bright and allow the patterned tiling to bring subtle drama with a contemporary feel. It's also a great way to camouflage your shower head and floor drain and provide handy recessed shelving for towels and toiletries.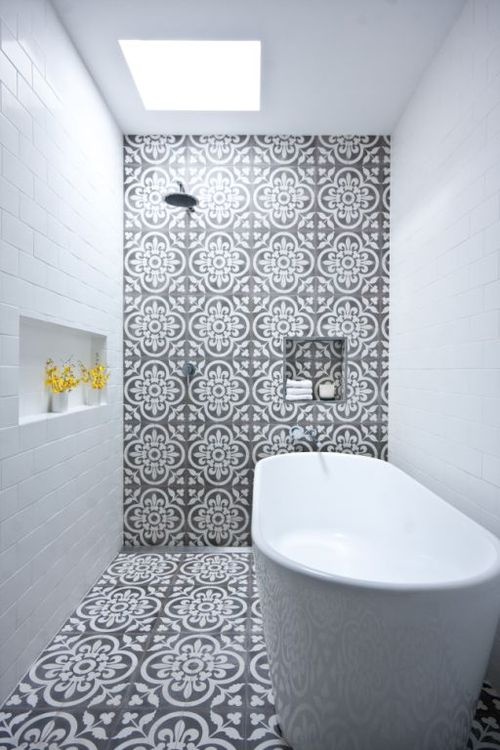 Embrace colour and pattern
From subtle to loud…opt for colourful geometric patterned tiles to embrace the trend of matching floor and wall coverings. Position a period style bath with a matching or complementary coloured exterior to anchor the design and help the eye locate where the wall ends and the floor begins. The inclusion of white also helps to keep the overall design clean and fresh and the patterned tiles in check.
Appeal to purists
Of course patterns don't have to be colourful to make an impact. White textured tiles can still add depth to any bathroom design especially when paired with a contemporary bath with a smooth finish for contrast. Natural light highlights their subtle pattern, accentuates angles and provides ever-changing tones of grey throughout the day. For a clever twist, echo the geometric pattern in non-textured floor tiles.
Play with scale
Playing with the scale of the pattern can also create interest in your bathroom design. Use a large pattern on the walls and complement with a smaller version on the floor, or vice versa. Or echo patterned sanitary ware with a larger version of the pattern in a tiled backdrop.
Follow our easy 5-step guide to tiling your bathroom here.