Inspired flooring to define zones
Open plan living spaces, favoured by lofts and apartments, are usually void of the interior walls that conventionally divide the area into rooms. To stop the space from feeling soulless and characterless, interior designers use multiple design tricks to define and zone rooms or areas within rooms. This is often achieved by using colour, accessories, freestanding shelving, glass wall blocks and 3D decorative panels.
But a new trend is emerging beneath our very feet to subtly alert us to where one zone ends and another begins.
Where will I have seen this trend?
Commercial spaces have long utilised hardwearing floor materials to differentiate one area from another. For instance, restaurants often differ the flooring in their eating areas to the flooring in their bar areas. But this trend favours blended flooring which gently blurs 'room' boundaries to allow us to use the space more fluidly.
Currently, there seems to be a real pull towards combining tiles with wood to spruce up interior design, whilst incorporating a durable floor covering for high traffic areas.
Fans of the trend include New York's Musket Room, which zones the bar area with cement tiles that merge into the wood flooring of the restaurant area.
The concept for 'Hopper's Bar', on the other hand, opts for hexagonal tiles and wood flooring to bring some warm relief to the heavy industrial feel of its interior.
How will this trend work in my home?
Given our enthusiasm for open plan living, it's no surprise that this trend is gradually making its way into domestic interiors. The desire to open up our living space has seen us knock down walls in order to create a multifunctional hub for our home. And with kitchen-cum-dining rooms and living-cum-dining rooms more popular than ever before, defining these zones with flooring is a neat trick. The desired effect can range from subtle to bold.
Defining the dining area
In these two examples, ceramic tiles are blended with wood to zone the dining area from the rest of the living area.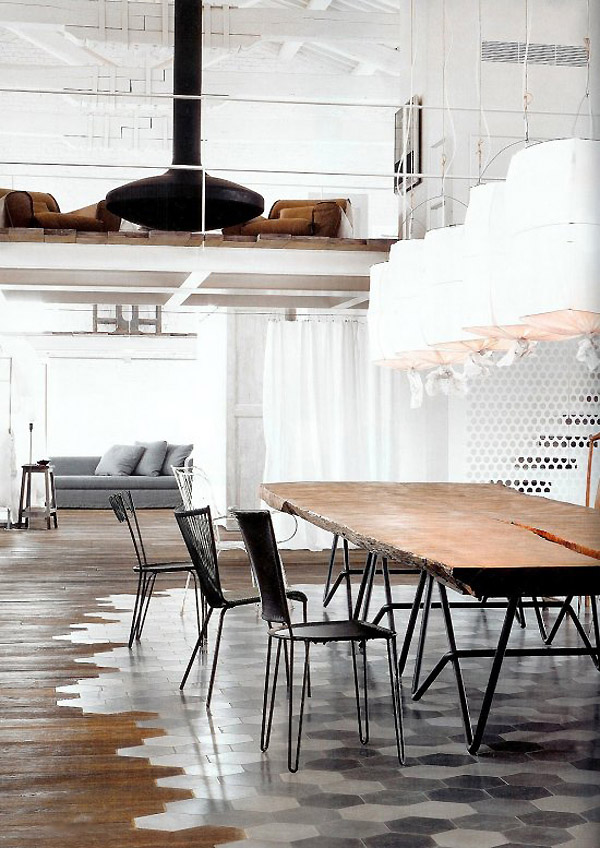 Defining wet and dry areas
This bathroom, by interior designers Kalb Lempereur, combines solid wood flooring with tiles to zone the wet and dry areas.
Uniting the dining and kitchen area
The blend of coloured and neutral flooring in this kitchen-cum-dining room playfully questions the relationship between the two zones.
Uniting the living and kitchen area
Colourful geometric tiles blur the transition between the kitchen and living area by spilling over the room boundary and inviting us to use both spaces as a continuation of the other.
If you're looking for innovative zoning ideas, such as blended flooring, why not check out Livinghouse's contemporary range of flooring, glass wall bricks and 3D decorative panels?