Decorating your home with flowers and plants
Interior design extends to all the accessories you use to make your home look good. Accessories are also a way to add colour and to put your own stamp on your rooms.
Perhaps some of the most overlooked accessories are flowers and plants. There is nothing like fresh flowers to lift your spirits and to add colour to your space. They are also transient so you can change them regularly almost to suit your mood.
If you look after them well they will last longer than you think although to be fair not all flower last the same amount of time. The basic care tips are:
When you get them home slant cut 3-5cm from the base of the stems – this allows them to take up water
Place them in clean water in a clean vase (always soak in a solution of water and bleach after use before washing vases thoroughly)
Add flower food if supplied – this helps to keep the water bacteria-free and ensures buds open
Place out of draughts and direct heat
Keep away from fruit as ripening fruit gives off a gas which will cause the flowers to age prematurely
Indoor plants last longer than cut flowers and come in all shapes and sizes. Beware of over-watering – this is the most common cause of plants dying indoors! A simple test is to feel the compost; if it sticks to your thumb or finger the plant is damp enough.
Trends in flowers and plants for the coming year
What the trend gurus are predicting as popular flowers next year are some real eye-catching beauties and most of these will be known to you.
There's nothing more cheering then colourful tulips in spring. Fill a vase  with one colour or multi-coloured tulips; if you don't want them to droop over, stand them in a water still in their wrap for a good hour before you take them out, cut the stems and arrange.
Good all year are colourful child-like Gerbera. These flowers don't like a vase-full of water covering their furry stems. Or lilies – remove the pollen from their stamen as the flowers come out to avoid staining – roses and Lisianthus.
Come summer liven up your rooms with bold Sunflowers, tall-standing Gladioli and Hydrangea. At the end of the year it's time for showy Amaryllis. If you really want to make a song and dance of these, turn them upside down and fill the hollow stems with water. Next fasten with cord or wire around the end of the stems and hang them from a ceiling hook or something else. Top up with water every day – they'll last for ages. These look fabulous displayed like this in a window for Christmas.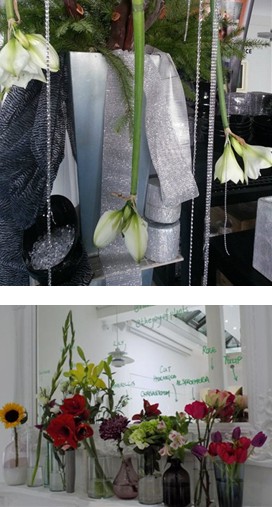 Plant trends
Try displaying your indoor plants in groups rather than on their own as it makes more of an impact.
Large floor-standing plants are predicted to be back in fashion next year especially if they have unusual shapes. So large plants like Pachira and Beaucarnia will really make a statement. Another thing to consider is standing your tall plant off the ground i.e. on a low table for a surprise factor.
Two other trends to expect are white-flowering fragrant plants and tropical flowering plants. In the fragrant stakes, plants such as Stephanotis, Jasmine and Gardenia.
Try Medinilla which has large hanging pink blooms, Gloriosa a delicate looking red and yellow, climbing lily or the furry kangaroo paw, real name Anigozanthos which comes in deep reds and yellows. Everyone of these plants would be a talking point.
If you're an orchid lover, which not try one of the many other varieties besides the well-known moth orchid (Phalaenopsis). Single stemmed Paphiopedilum is a stand out one; or you might prefer the Cymbidium which has many flowers on one stem. There are others worth looking out for too: the Cattleya, the Dendrobium and the Zygopetalum.
No matter which room you are looking to jush up, cut flowers or plants will make a real difference.