Contemporary easy access bathrooms
We don't believe you should compromise style over function or vice versa when it comes to bathroom design. And just because some impairments can affect mobility, it doesn't mean you have to settle for purely functional fixtures and fittings that are bereft of style.
Many modern bathroom ranges recognise the need for high functionality combined with aesthetically pleasing design that is accessible to both disabled and non-disabled users. Essentially a bathroom that fulfils the needs of every family member.
Walk in baths
Walk in baths provide the ideal solution for users with mobility issues. Easily accessible with full-height frameless glass doors that double as shower screens, they can also be supplied with chair lifts to aid lifting and lowering or integral shower seats. Combining beautiful contemporary design with exceptional European quality, they ensure functionality without the clinical aesthetic.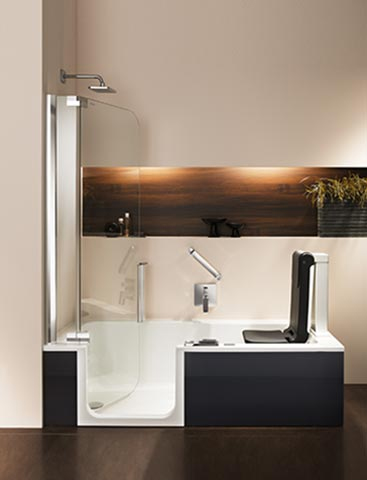 Easy access showers, wet rooms and level access and walk in shower trays
Generously sized shower enclosures allow plenty of room for manoeuvre and give the required access for those who need assistance. Cleverly designed wrap around shower cubicles fold neatly against the wall when not in use, and full shower enclosures with split-level double doors provide maximum access. Alternatively, level entry shower trays installed at floor height allow easy access for wheelchair users.
Or if you're tempted by the ease and convenience of a wet room, installation kits for wet room floor systems are also available.



Shower seats, chairs and bathroom stools
Durable and waterproof shower seats, chairs and bathroom stools provide a safe and sturdy alternative to standing. Contemporary in design, shower seats can be either wall or floor mounted. Available in a range of colours and sizes, they complement bathrooms that favour minimalist design and can be folded away when not in use.


Shower and bathroom grab rails
Grab rails provide essential support and stability in the bathroom. Beautiful contemporary designs are available in a range of finishes, from chrome, stainless steel and white to warm-touch, and can be positioned around the shower, bath, toilet or wherever is most useful.


Toilets
Height is often an issue when it comes to toilets. They're either too high or too low. One solution is an electronic toilet frame and cistern system which is suitable for conventional wall mounted toilets. This provides flexible functionality, allowing the user to easily manipulate the toilet height without compromising on great contemporary design. Another solution, which is readily available, is a toilet with a higher seating position.


Basins
Again, height is the main issue here and an electronic basin lifting frame system is also available to adjust the height by way of a remote control switch. Alternatively, contemporary wall hung basins with integral holding handles or grab rails aid the user whilst complementing the sink's design. They are also load bearing, enabling the user to pull themself up from a seated position if required.


Check out our full range here.