Bathrooms: 6 ways with concrete
Concrete is not everybody's cup of tea, but as we've seen over the years this hard-wearing material has crept into the gardens and homes of forward-thinking design enthusiasts. And whilst some people would rather see the back of it, others are enjoying the benefits of concrete in their bathrooms.
Yes, it helps if you're a fan of grey and the contemporary, but don't dismiss this versatile material before you've seen it in action.
Concrete sinks
This chunky concrete sink is just one example of how the material was used by London and Bangkok-based Fourfoursixsix when they designed an entire house constructed of aerated concrete in a Stockholm neighbourhood.
When the sink featured in an article on Dezeen's website it provoked the following comment from one of their readers, "That sink is more beautiful than any of my children! I'm joking of course, but seriously…I want that sink."
As we said, concrete, you either love it or hate it. We particularly love the character and texture provided by air bubbles trapped during the casting process. How about you?
Concrete showers and wet rooms
As concrete is treated to withstand water saturation it's a no-brainer for shower interiors. Walls can easily be rendered in concrete to provide sharp clean lines for contemporary bathrooms, as well as handy 'cut out' storage areas.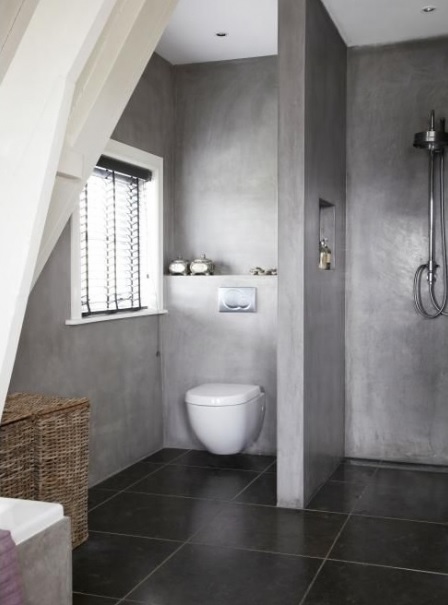 Concrete baths
So the thought of a concrete bath may not be instantly appealing, but when we tell you they're great at retaining the heat, you might just change your mind. Other redeeming features include durability and the fact that it's hard-wearing. You also have some flexibility in the shape and design as concrete can be moulded. Curved or smooth edges, anyone?
Integral storage
We've already touched on storage, but this is a great example of how you can get creative with integral storage whilst remaining true to your overall design. By utilising the exterior wall of the shower, towels are still in easy reach for the user but far enough away from the water source to remain dry.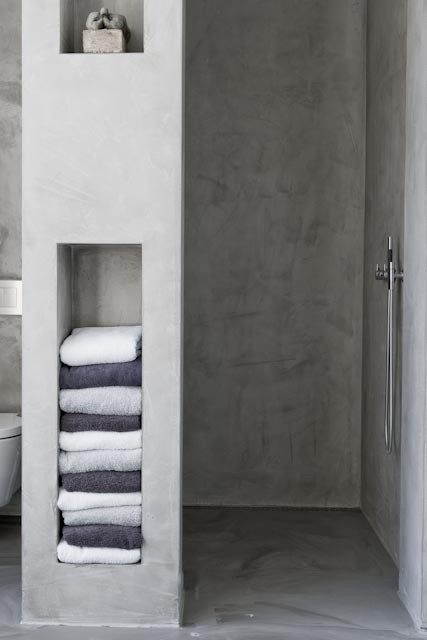 The entire bathroom
This stunning bathroom takes concrete to the max by featuring a bath, sink, toilet and a shower wall completely constructed from concrete. Whilst the predominantly grey colour palette might just tip some people over the edge, the bright orange taps help to bring some much-needed colour to the scheme.
Concrete accessories
Yes, they do exist. So indulge us if you will with this fun concrete toilet roll holder. Designed by Bertrand Jayr and Lyon Béton, this wall mounted sculpture is both visually appealing and functional. Well, that's if you don't mind your toilet roll being on display. If you do, then perhaps rolled hand towels would work instead…