Fancy bathing in the garden?
We always look longingly at outdoor showers wishing that our climate was more amenable to using them.
Most of us in the UK have only experienced them abroad or when visiting an outdoor lido and going through the shower on the way in and out of the pool.
Aptly as it's garden show time right now with the Chelsea Flower Show closely followed by the Hampton Court Flower Show, we've come across a lush, luxury one. It was built as a garden bathroom retreat by well-known TV presenter and Chelsea garden designer James Wong with David Cubero. The garden bathroom was actually created for the Hampton Court Flower Show in 2008 and was called the Burgbad Sanctuary Garden.
The bathroom is enclosed in a purpose built glazed garden room and planted with exotic plants. It is also surrounded by beautiful planting, paved and decked paths and water features.
So you aren't exposed to the elements but the glazed walls make you feel as though you are bathing amongst the plants outside.
We suspect the glazed enclosure can also be suitably heated to make this garden oasis a comfortable space in which to bathe.
Of course most of us don't have the space to add a bathroom at the bottom of the garden and quite possibly wouldn't want to. We're not sure when you'd use this sanctuary although there is no doubt it would be a most relaxing space.
For a similar bath for use indoors too, see the Oscar and the Beau baths available from Livinghouse.
Having the choice
Do you fancy the idea of bathing or showering outdoors? In warm climates and holiday retreats it is often possible.
Maybe we need at what looks like a mobile shower that you could wheel out into the garden when temperatures allowed?
We're thinking something along these lines:
This was spotted at the Maison & Objet Show in Florida last week. Of course you would need a water supply to hook up to and again, our temperatures don't reach the dizzy heights of Florida summers.
Of course if you were brave enough, it could be a permanent garden fixture too.
Greening your bathroom
All things considered though we think we'd rather stick to a bathroom indoors. To give it that green oasis feeling there are several ways it can be achieved.
We love the idea of a green wall in the bathroom with all those plants growing vertically. This bathroom has a small green wall, lots of plants and a rain-water shower for luxurious bathing.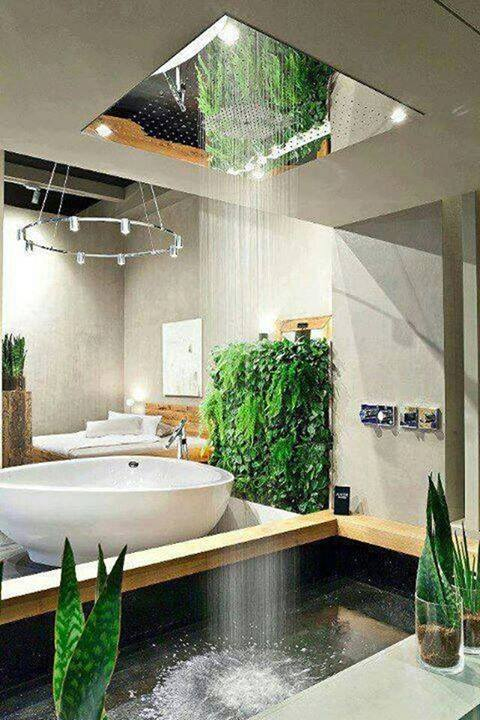 If you prefer something less extravagant, there are picture frames that can be planted with living plants available too. So you could have a line of these above your bath.