Using a mood board to design your bathroom
Interior Designers have long used the aid of a 'mood board' to plan and sell their ideas. Nowadays, as well as a physical mood board, they are likely to have access to computer software that will help them and their customers visualise their design too.
What is a mood board?
"When trying to convey a design idea, moods, feelings and fluffy stuff like that are hard to communicate, professional designers will often use mood boards: a collection of textures, images and text related to a design theme as a reference point," explains creativeblog.com.
This is a tried and tested way to show ideas to others. It's useful for you if you are doing your own design to put together a board of things you like, colours that appeal to you, textures that really add to the feeling you want to create and so on.
Using Pinterest
The easy way to do this these days is online via Pinterest. You can follow other people's Pinterest pages or create your own and pin images from your phone or camera or alternatively share and pin from other Pinterest boards to create your own.
It's not difficult to find ideas of all kinds about probably anything you name but interior spaces are always popular. Some interesting bathroom pages on Pinterest include
But this is just the tip of the iceberg, there are many more.
Sharing a pin
If you don't want to follow complete boards – click the tab at top right-hand side where it says Follow Board – or you can just share one or two pictures.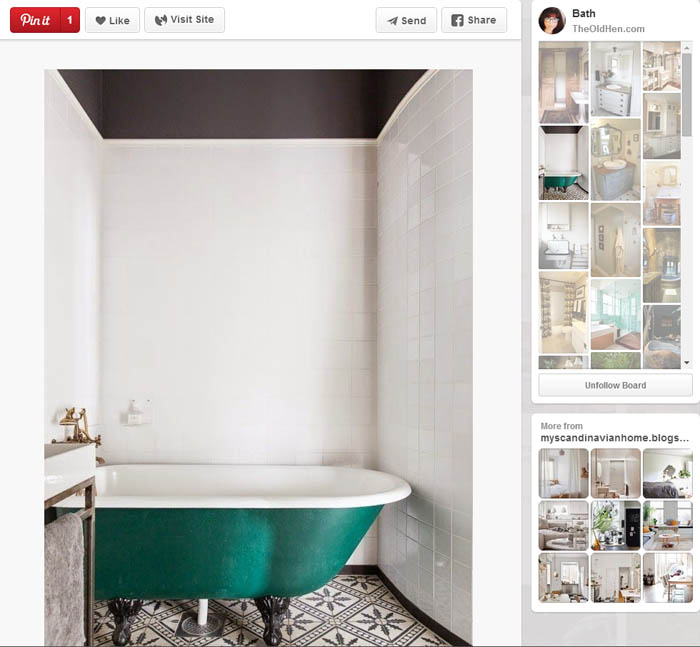 Just hover over the picture or click on it to enlarge; a red invitation to Pin it will appear. If you click this button it will take you to a menu for your own boards.
Use the drop down menu to select a board, add a comment to the description if you like and then click the Pin it button. This image will then be saved in your own mood board.
This is a really simple way to gather your favourite ideas for your design.
You can go on to refine your search and share pins for baths, toilets, showers, curtains and blinds, flooring and much moor.
Pulling it all together
With all the ideas you've gathered you can start sorting through to find practical solutions for either your décor or for a complete refurbishment of your bathroom.
You can go a step further and search out colour tester pots that match the hues you've chosen or find some real material swatches/samples to consider for curtains or blinds.