Stylish alternatives to natural Christmas trees
Don't get us wrong, we love a real Christmas tree, after all you can't beat the smell of fresh pine mingling with the cooking aromas of a decadent festive roast, can you? However, if you can't bear the kerfuffle of wrestling your natural Christmas tree into place, decorating it and hoovering up pine needles well into the New Year, then these stylish alternatives could be right up your street.
Did we mention that you might have to get a bit crafty to recreate these ideas? Don't worry many of them have handy step by step guides.
Plastic fantastic
We knew we could rely on Martha Stewart (or her design elves) to come up with a quirky idea. Here she uses different sized white plastic piping adhered to a piece of plywood in the shape of a stylised Christmas tree. It's then filled with colourful ornaments in a range of sizes. You can find a step by step guide here.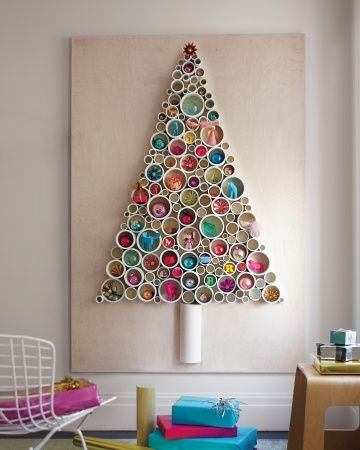 By special delivery
Now this is a great solution for the abundance of Christmas cards that will fall through your letterbox in the run up to the festive period. It also solves the dilemma of where to display said cards. Why not have a Christmas card tree in several rooms or create a forest on your landing?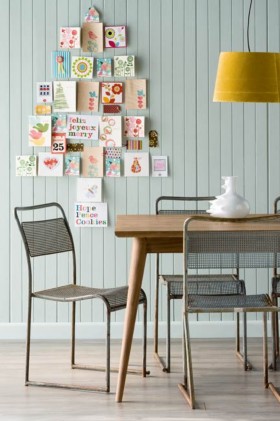 Problem averted
Now, should buying a Christmas tree completely slip your mulled wine soaked mind, fixing the Christmas decorations directly to the wall can create the desired effect. A liberal spray of pine scented air freshener every so often and the family might not even notice the difference. If they do, just wing it and claim it's a conscious design decision.
Surf's up
Spending Christmas by the sea? Then this tree made from wood could deliver the perfect beachy feel. Use reclaimed wood, off cuts or broken down pallets to form the tree. Add the odd shelf to accommodate candles safely contained in pots or drape with white fairy lights to bring the festive sparkle. Hang your favourite decorations from nails and you're good to go.
If the previous wooden tree idea is a bit pedestrian for your carpentry skills, why not recreate this more complex 3D version instead?
Smells like Christmas
Well, sort off. If you're opting for lamb over turkey, then this minimalist yet aromatic take on a Christmas tree brings the sweet smell of rosemary to the proceedings. Of course you could opt for catnip to give your cat a more than memorable Christmas. Need a step by step guide? You'll find one here.
As it's the season to be jolly, you'll find lots more inspiration for Christmas decorating on our blog. Take a look at our quick ideas for Christmas windows, festive wreaths for the bathroom and tips on how to prepare for a houseful over the holidays.