Spotlight on colour: Mellow yellow
It can't have escaped your notice that yellow is a very popular colour. Watch enough property programmes and visit enough houses for sale and you'll be greeted with various shades of the sunny stuff.
Why is yellow so popular?
Good question. Well, it could be that we are trying to evoke the positive mood we feel from spending time in the sun. Or that we're desperately trying to emulate the brightness provided by sun-kissed days that are sadly lacking in the UK.
Yellow is also the safe colour choice for those who dislike the clinical feel of white and are looking for something more jovial than beige or cream. From insipid to bright tones, yellow is most definitely a firm favourite in British homes. The only trouble is we're not great at bringing more to the table than just a yellow paint job with furniture playing the supporting role.
The psychological bit
Colours affect our mood and some even produce physiological reactions. Some colours are calming and some are motivating, which is why it pays to follow a few rules when choosing your colour schemes.
Unsaturated or strong yellow, for instance, stimulates intellect and is ideal for the home office or your creative space when used sparingly. It also works well in the kitchen and as a ceiling colour. As yellow tends to stimulate, it's best to keep it out of the bedroom if you value your sleep.
Saturated or pale yellow signifies restraint, which ironically is ignored by most fans of this shade. As it increases relaxation it's perfect for the bathroom.
Interestingly the physiological reactions to yellow include increased heart rate, increased blood pressure and heavier respiration. (Source: Design 55)
How to use yellow in your home
As our love affair with yellow sees no signs of abating, it's time to get to grips with using it effectively. That means toning down its strength if used en mass and injecting shots of brightness that will make your room design pop.
Here are a few design suggestions to get you started.
Inject a hint of yellow into your creative space or home office to get the creative juices flowing.
Add a shot of bold colour to the kitchen with yellow stools.
Or let a design classic in yellow do the talking for you.
Use bright yellow to link your rooms instead of dominating them.
Use yellow sparingly in the bathroom to create interest and aid relaxation.
If you simply must use yellow in your lounge, then balance it out with a calming shade of blue.
And if you can't resist sneaking it into your bedroom, then use it as an accent colour and team with sophisticated grey and white.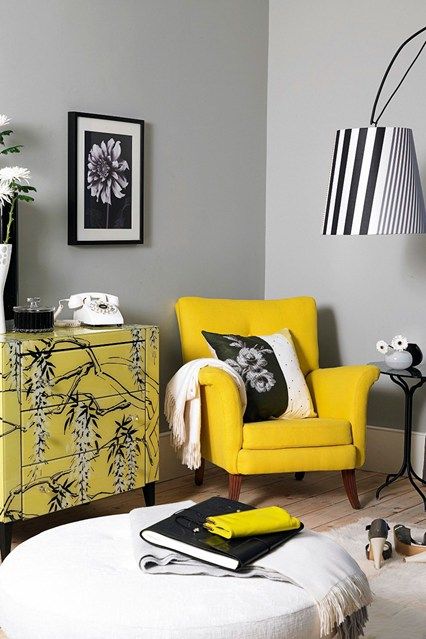 You'll find more design tips on using colour and the latest colour trends on our blog.