About Shower Enclosures
A glass shower enclosure allows for a shower to be installed in a corner or on a straight wall without a purpose built shower cubicle. The benefit of a shower cubicle is usually aesthetic – a shower enclosure with either one or two sides and the door made of glass will obviously provide far more light than a traditional cubicle. Shower enclosures can also add style and elegance to a bathroom. While the exact design is usually a matter of taste, the decision concerning doors should receive a lot of attention, as not only can doors alter the feel of your bathroom, they also have to take bathroom furniture and spacing into consideration.
Showers doors can be hinged or pivot doors that swing inward or outward. Outward opening doors must be hung where they will not be obstructed by bathroom furniture such as washstands. Most showers will have doors that use space efficiently and open into the shower. These include sliding doors, bifold doors and swing doors. Curved doors are a popular choice too, and can totally change the look of the entire shower.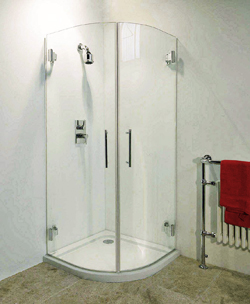 Installation
Shower enclosures are usually installed in a corner, but 3-sided glass enclosures can be installed against a wall. Most shower enclosures can be installed to fit a shower tray or can be installed without a tray in a wetroom.
If you are installing a new shower enclosure, make sure you have the dimensions of the shower tray before deciding which enclosure to buy – it's usually a good idea to buy them together unless it's a new enclosure for an existing tray or a wetroom installation.
Whatever your decision, make sure your shower is installed safely and professionally.