Salone del Mobile Milan 2016 – Part One
At Livinghouse we are always on the lookout for cutting edge design; design that ages with grace and wears well. Now we enjoy a good catalogue session but the only tangible way to find great products, assess their quality and build a relationship with the supplier is to travel and visit trade shows. One of the biggest interior design shows in the world is the annual Salone Del Mobile show in Milan. We try and make it every year, especially if some of our favourite suppliers have given exciting teasers on what they will launch.
When the week long show descends on Italy's business capital, the city fills with designers, architects and suppliers from all around the world.  This year it was estimated that 300,000 people visited the different parts of the giant show. It's hard to miss when you arrive in Milan, it's sign posted everywhere and the whole city buzzes with creativity; exhibitions pop up near landmarks and events celebrating design are held throughout the week.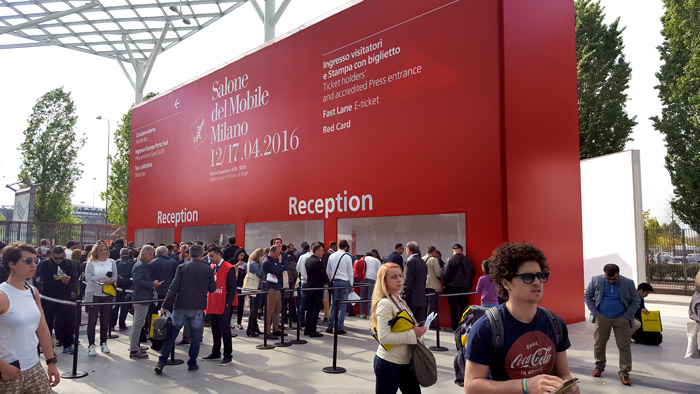 The scale of the show hits you when you enter through a giant archway and take a travelator into the throes of people. We had quite specific things we wanted to see, mainly around bathrooms, but it is very easy to spend the whole week at the show. Our product range is a testament to the inspiration that we receive when we travel for shows. Often times we see something so unique, so unlike anything in the UK that we like to bring the ideas back with us and try to implement them.
While we're going to keep our new products under wraps for now, we have some great snaps of innovative and quirky products that caught our eye.
Lavish Bathrooms: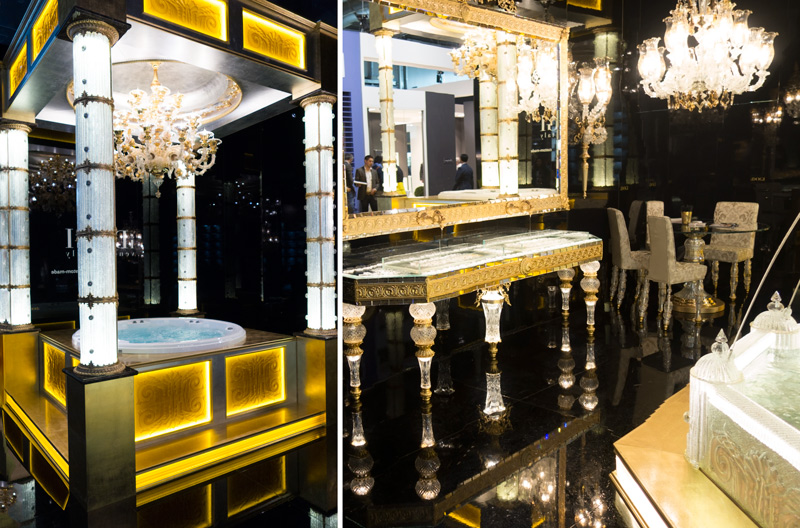 There are always showstopper stands at interior design shows. Compositions that let you know just how capable a designer or manufacturer is. One of this year's such pieces was this super-lux bathroom at the international bathroom exhibition. It featured large swathes of venetian glass cut in amazing shapes, chandeliers and just enough gold to give the design antique glamour. Best described as a boudoir fit for a king, there were Swarovski crystal encrusted pillars surrounding the Jacuzzi bath and a fountain with water shooting from glass tea kettles (sadly, mostly out of scene).
An easier way to integrate this lavish look is through accessories in the bathroom. This range really caught our eye as it was one of the best quality gold finishes we have seen.
Blending gold with a green marble in accessories is an easier way to implement the very on-trend malachite finish that we wrote about before. You can read our blog post here.
The shine on this radiator was just unbelievable in person. If you were going with an antique green and gold style then dark green towels would look phenomenal. However this lighter, more luminous shade of gold on the radiator would fit in very modern homes also.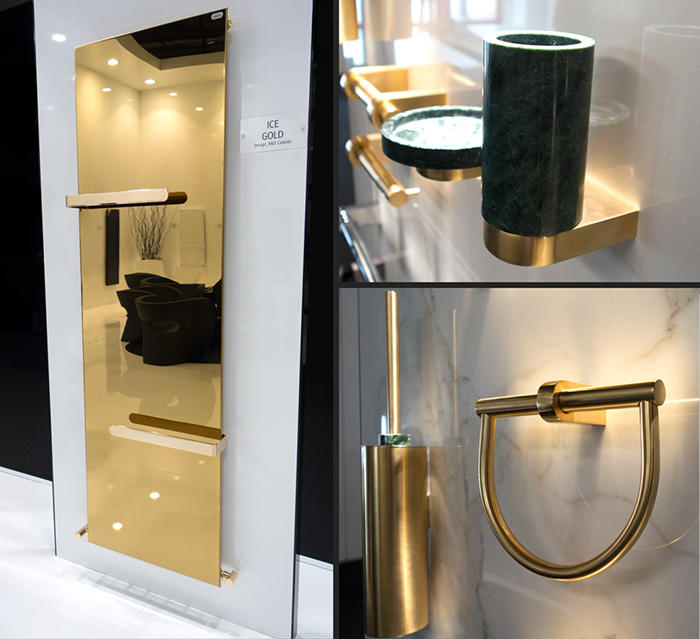 We checked in with the supplier of some of our glass basins. They had a grand display of their new metallic range of basins. Seen here, there are 48 basins on each of the two walls totalling well over £120,000 worth of inventory! Such a display is to be expected from a supplier showcasing at the most important interior design show in the year.