Salone del Mobile Milan 2016 – Part Two
We continue to look back at our time we spent at the Salone del Mobile trade show in Milan. If you didn't catch part one, you can read it here.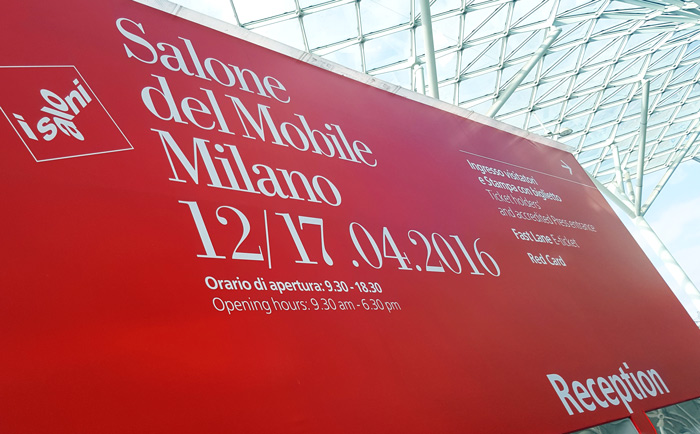 Trade shows can be exhausting: they're massive venues with events held around the city and you're on your feet for most of the day. That's why, when competition is tough, the Italians know how to set themselves apart. Nowadays, many stalls offer bars serving drinks and nibbles so you can catch your breath, encouraging you to stay that little bit longer at their stand. Well, we certainly weren't going to refuse! Flutes of Prosecco, pressed Panini sandwiches and flatbreads galore, it definitely makes the show more comfortable.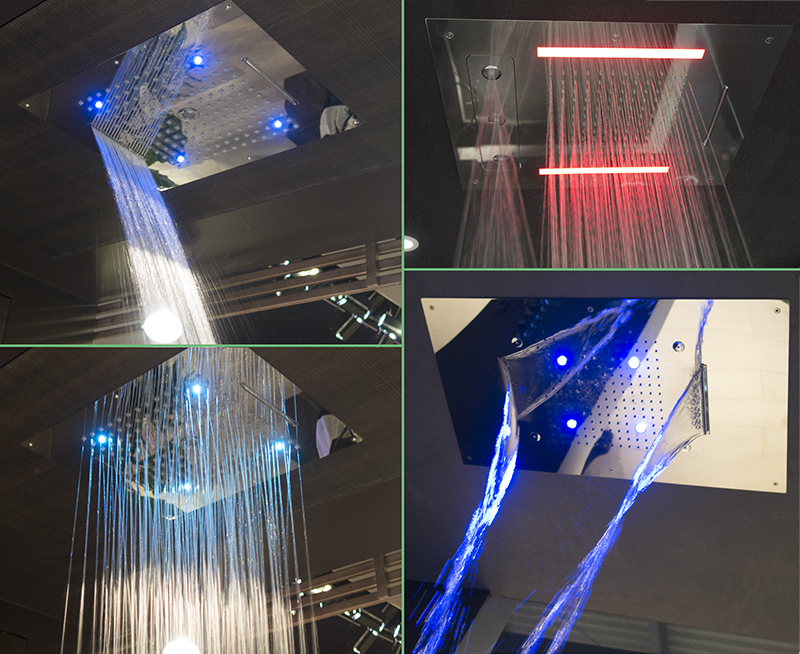 Now we already stock amazing rain and waterfall showers like these, but every year we see another astounding feature being added. This year we have dual waterfalls, jets from above, aromatherapy lights and built in music systems. Showering has become less of a daily chore and more a leisurely pastime!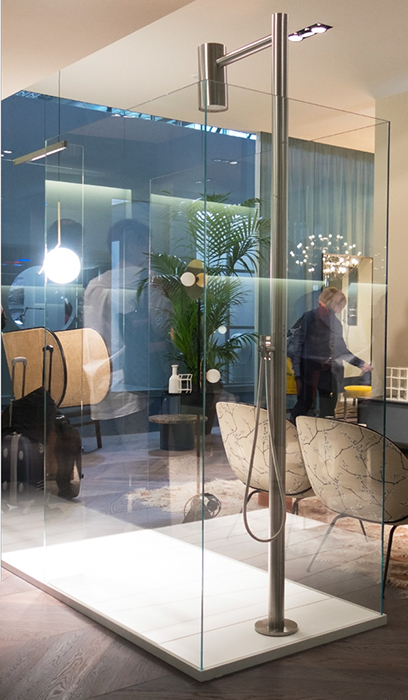 This shower enclosure caught our eye with it's almost entirely frameless design. It's complemented nicely by the stainless steel freestanding shower. This 'street lamp' design would really suit a modern industrial look.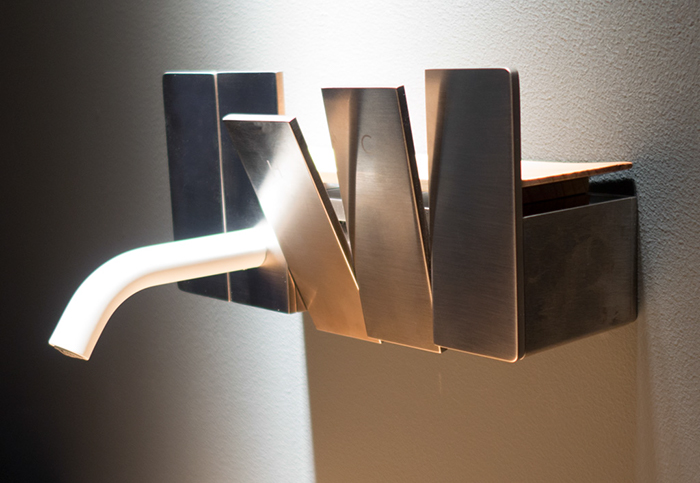 At another stand we saw this tap, which we think would work perfectly with the statuesque shower column. It has that industrial edge with a sleek twist. It's an engineering marvel, yet also extremely tactile to use.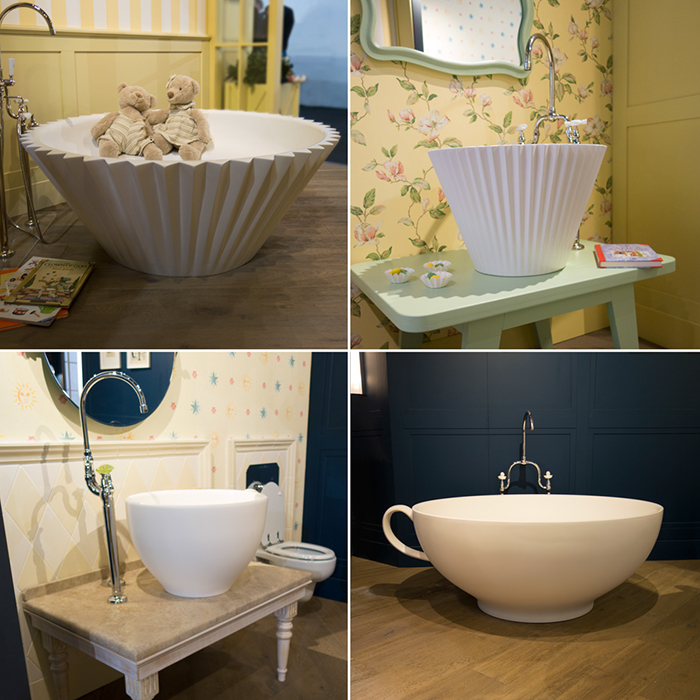 These whimsical designs are exclusively for children's bathrooms. If you use the teddies for scale, you can see just how small the cupcake and teacup shaped bathtubs really are.
Although not everyone has a bathroom just for their kids, this is a great approach for those that do. It gives the children a little bit of independence and their own space,  while keeping the toys and kiddie paraphernalia out of your bathroom!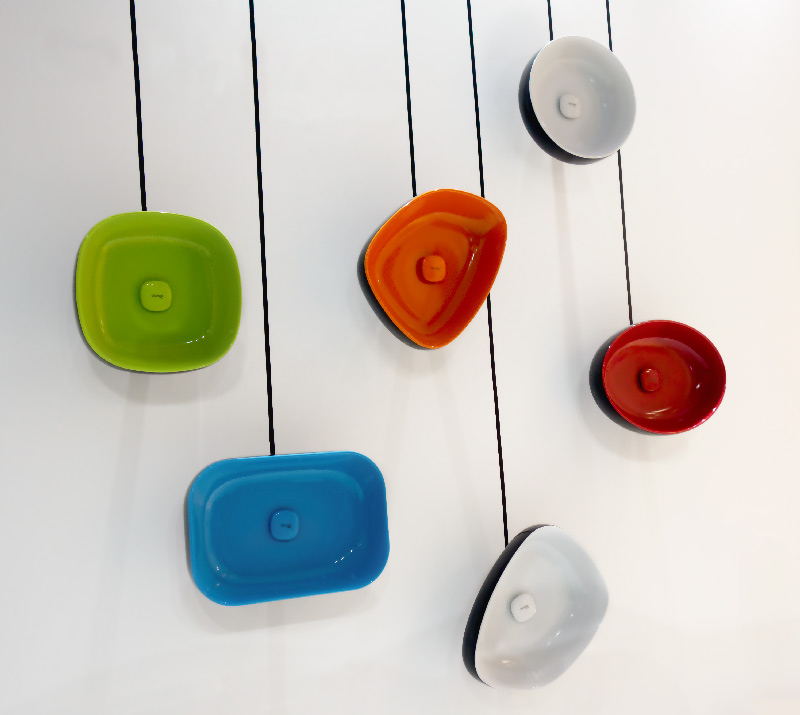 Italian firms know design and they hold a lot of influence on the trends taking hold internationally. We saw a lot of colour – it's a great way to grab attention. This was another eye-catching display, with vibrant, colourful basins strung up on the wall. What's great about these is they aren't bright all over – just on the inside – so at first you'll only see the sleek black profile, but the bold colours reveal themselves when you take a closer look.
Choosing how to integrate colour into a design can be tricky but the phrase "less is more" remains. Choosing coloured statement pieces, and repeating that colour throughout the room, is a safe and established method. Products like these are perfect for those of us who don't want to commit to anything too crazy, but still want cutting edge design.