Quirky bathroom tales from 2014
As the New Year starts we are either looking back or forward. There are also three main things on everyone's minds: loosing weight, getting healthy or looking forward to a holiday.
We don't have any wise words about the first two but we thought we'd put a smile on the faces of all those – or their partners – who are accused of packing everything but the kitchen sink for their holidays.
We've got the bathroom sink all packed up! We found this great idea for this basin packed in a suitcase created by Italian designers Ceramica Olympia. It's really smart, comes in a number of colours and folds away!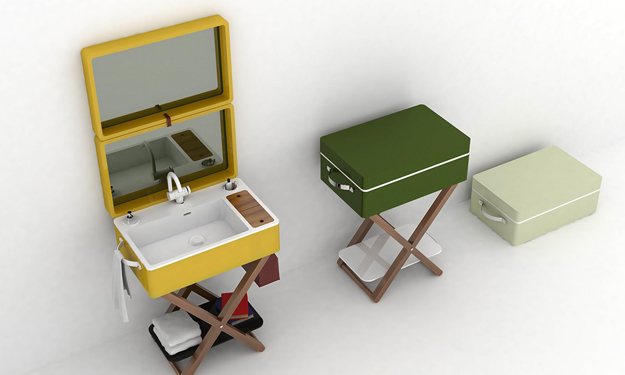 Looking back in wonder – or just with a smile
In the year when we brought you 'Tips for surviving the World Cup' from your bathroom to the toilet that tells you it's time to see the doctor, we've had all manner of quirky ideas covered.
We had a short history lesson about basins in February taking us right up to the very modern one made of recycled rubber! From a rubber tyre which was melted down and well cleaned before being processed into a flat, smooth sheet. This was stretched over a frame made from either wood or metal and held in place with a drain collar.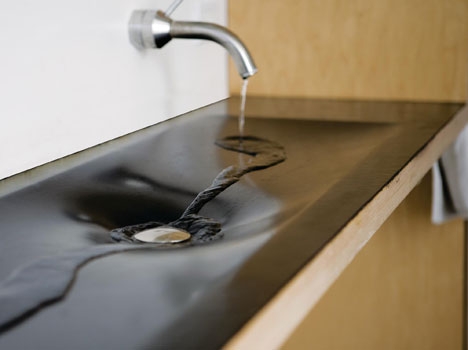 So should the wheel or in this case, the basin be reinvented? We guess it depends how much you hanker after different, or what your functionality needs are.
In March we reviewed the latest App AirPnP, which means you can find a loo when you need one wherever you are.
In April we had more public toilets than you can shake a fist at! Famous for the largest public toilets in the world are the rest rooms at Chongqing in China. The site has 1,000 toilets or there-abouts spread over four floors and covering around 32,000 square feet.
It's not just the size that makes them a talking point though. Urinals here come in the form of colourful characters from crocodile's or are they dragon's mouths to curvy females who look suspiciously like nuns!
Next came the old school porcelain toilet fitted onto an adult tricycle. It started as an art project and isn't functional as a toilet. The artist suggested using the bowl to carry things in!
These toilets were followed by the one that tells you it's time to see the doctor … to what people most commonly read on the loo and those who have met untimely deaths in the bathroom. And ex-Blur and now foodie, Alex James' love of a Japanese toilet.
We showed you a self-cleaning tap – we all want one or more of those – and celebrity 'selfies' covering the wall of the smallest room. There was the one about iconic bathroom movie moments back in August including Psycho and Pretty Woman and the mobile shower bus designed for the homeless.
If you enjoyed these revelations last year, please keep reading to see what we come up with in 2015!
Of course if you are looking for more conventional but superbly designed bathroom ideas, look no further than Livinghouse!