First mobile shower bus for the homeless
For those of us who are fortunate enough to have a roof over our head, showering and bathing facilities are all part of the package. We have the luxury of hot running water and often the choice of either a shower or bath at both ends of the day if we feel the need. But spare a thought for the homeless who have to rely on access to public facilities to shower.
In San Francisco they're attempting to address the problem with a pretty amazing idea that began in 2013: a mobile shower bus for the homeless.
To 'restore dignity one shower at a time'
Lava Mae, a non-profit scheme, is the brainchild of former marketing executive, Doniece Sandoval. After realising San Francisco's 3,500 plus homeless residents had limited or no access to showering facilities – there are only eight public showers in the city – she was inspired to help alleviate the problem and provide a solution.
Her aim is to provide a private place for the homeless residents of San Francisco to wash, "What we are about is providing hygiene, because we believe hygiene brings dignity and dignity opens up opportunity."
From bus to mobile bathroom
After several months of planning and a $75,000 refit, a decommissioned bus donated by the San Francisco Municipal Transportation Agency was transformed into a mobile shower facility. Catering for male, female and disabled passengers, the bus has two bathrooms complete with changing room, shower, sink and toilet and visits the city's worst affected areas. These include the downtown 'Tenderloin' area and the Mission district.
Doniece Sandoval explains in one of Lava Mae's promotional videos that the service is free of charge and offers "20 minutes of complete privacy and respite to hopefully recharge yourself in a lot of ways."
Thanks to the city's Public Utilities Commission the mobile shower bus' water supply is provided via fire hydrants located on the street. However, Lava Mae does have to pay for the water used.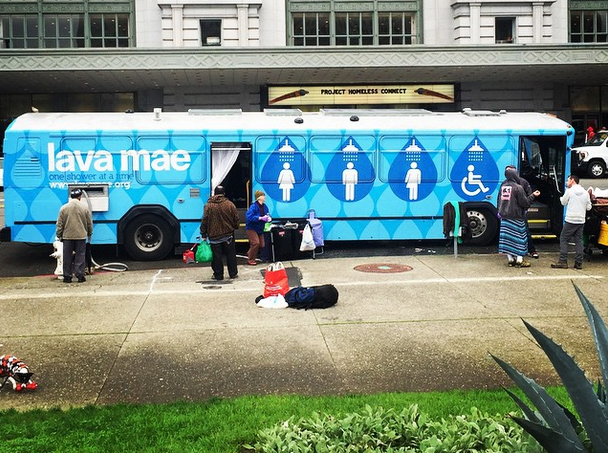 Aiming to launch a full service
So far the San Francisco Municipal Transportation Agency has donated one bus to the project and depending on the scheme's success, will donate a further three. Doniece Sandoval hopes to roll-out a full service across the country in spring 2015.
Interest in the scheme has been worldwide with groups and individuals as far afield as Brazil and Singapore keen to provide a Lava Mae for their own communities. Do you think this idea would work in the UK?
Did you know?
The name Lava Mae was inspired by 'lavame', the Spanish for 'wash me' and adorns the bus along with the tagline, 'one shower at a time'.
You can find out more about Lava Mae's story on their website: lavamae.org