Mirror Trends: Contemporary vs. Traditional
You need a mirror in the bathroom, but do you go for ultra modern or antique to complement your bathroom design?
Here are several mirror trends from both the contemporary and the traditional design point of view. Will these comparisons help you make that all important decision?
Oversized mirrors
The trend for incorporating colossal sized mirrors as statement pieces in room design has been around for a long time. We're no strangers to seeing oversized antique mirrors leaning against walls in lounges and bedrooms to add amazing drama. Spacious bathrooms also get the treatment with towering, ornately framed mirrors as backdrops to both period style and modern baths.
This bathroom design celebrates both the contemporary and the traditional by layering a large ornate mirror over a vast contemporary mirror with stunning results. The modern bath and tap work well with both the mirror and the chandelier, and a patterned rug injects just the right amount of colour.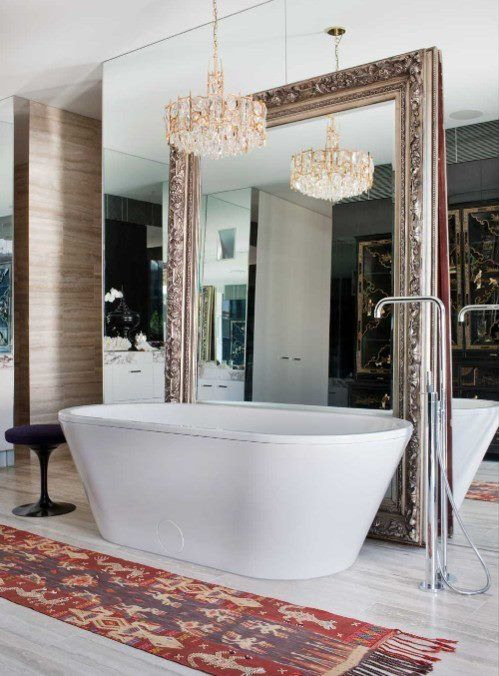 The contemporary equivalent to this trend brings the same drama using a simple modern mirror with an unobtrusive frame. Propped against a wall, its scale plays nicely with the bathroom's space and abundance of white to provide just as much interest in this thoroughly modern design.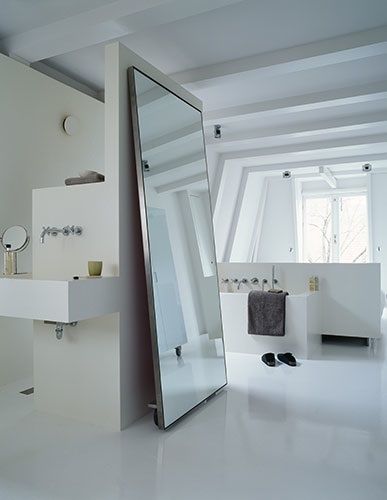 Mirror wall dividers
Although this bathroom benefits from many period features, its dividing wall is covered in large unframed mirrors which are decidedly modern. The repetition of square and rectangular mirrors manages to give the wall an aged feel and is easy to replicate. By reflecting the room's period fireplace, traditional style bath and generous chandelier, the dividing mirror wall keeps the overall design feeling very traditional with a nod to shabby chic.
The contemporary equivalent of the mirror wall divide shown in this design is uninterrupted from floor to ceiling. It echoes the bathroom's clean lines and minimalist design to cleverly extend the feeling of space. A simple contemporary bath, recessed shelf and wall mounted taps complete the look.
Mirror grouping
Why settle for just one mirror when you can have several? This idea replicates the trend of grouping photos or art in various sized frames with varying finishes. Here framed mirrors are used to brilliant effect in the bathroom. We love its eclectic feel and period drama.
Steal the look by mixing antique and contemporary mirrors available from high street stores, auctions and charity shops. Complete the look with a period style washstand and contemporary sink with wall taps.
Using a series of round frameless mirrors in varying sizes is a great way to create a similar eclectic look but with a very modern feel. Both the white period style bath and mirrors look stunning against the blue-grey painted wall. This would also work well with framed contemporary mirrors in silver, black, white or a colour that complements your bathroom scheme.
Whether you're opting for a modern or traditional bathroom design, you'll find beautiful designer bathroom mirrors at Livinghouse. Choose from illuminated, steam-free and magnifying in a range of shapes and finishes.