How to Choose The Right Toilet for Your Home
Arguably the most useful item of furniture in any household! A home without a toilet would be difficult to live in, and almost impossible to sell. Aside from the obvious necessity, a toilet can also add an element of style to your bathroom, depending on which type of toilet you decide to install and how it affects the feel of your bathroom as a whole.
Here is a list of the different types of toilets, and remember that each of these types is available in vast range of styles and colours
Close Coupled Toilets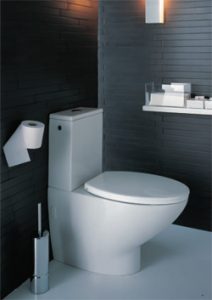 Close coupled toilets are the most common toilets found in bathrooms. 'Close coupled' means that the bowl and the cistern (the water tank section) are very close together. Designs like this allow for the opportunity to lean back against something while seated, should you need to do so. These types of toilets can be operated by either a flush handle or a button on the top of the cistern.
High Level Toilets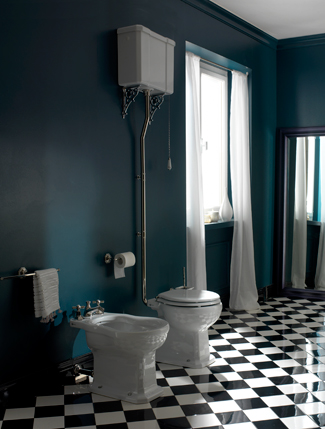 High level toilets have the cistern mounted high up on the wall and connected to the bowl via a lengthy stretch of flush-pipe. These require chains to flush, as very few people are tall enough to reach the cistern. High level toilets are often what we think of if when we imagine a Victorian bathroom. It is no longer necessary to mount the cistern so high, and is now only done to create that "Victorian" feel.
Low Level Toilets
Low level toilets are a cross between high level toilets and close coupled toilets. The cistern is located directly behind the pan, similar to a close coupled toilet, but is connected via a flush-pipe, much like a high level toilet, although much shorter. The lower cistern means that a chain flush is not required and a handle or button fitted directly to the cistern is usual.
Back to Wall Toilets
Back to wall toilets feature a cistern hidden inside the wall or some storage space. This type of toilet is particularly well suited to bathrooms with plenty of storage space but not a whole lot of floor space, and can give large bathrooms a minimalist look.
Wall Hung Toilets
Wall hung toilets are the most futuristic looking of all the toilet designs available. They are mounted to the wall with strong frames, leaving a space between the bowl and the floor, making your bathroom easier to clean. The cistern is usually hidden much like a back to wall toilet, but can be mounted on the wall too.
Concealed Cisterns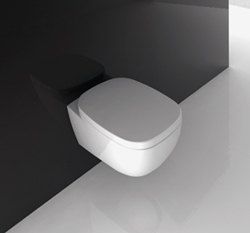 Concealed cisterns are cisterns that have been "hidden" in the wall, usually with back to wall and wall hung toilets. Modern concealed cisterns can be incorporated into spaces as small as 90mm, and can include dual flush with water volumes 3 litres and 7.5 litres.
Ultimately, your choice of toilet is a personal one. Hopefully this information will make things a little clearer, but we are always available to offer any advice you may need.