How much time to completely renovate a bathroom?
Living without a bathroom, even just for a day, can cause even the most loving family to become a little irritable, so it is useful to plan properly and realistically for any bathroom renovations.
Ripping out the old bathroom completely and starting from scratch could take over a week, depending on how much needs to be done.
The state of the original bathroom and the efficiency of the bathroom fitters will influence the time taken to complete a bathroom renovation, but the following timetable should give some idea of what you are letting yourself in for.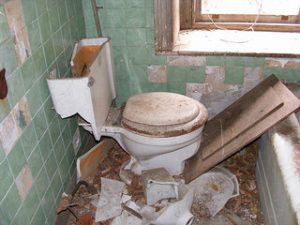 We are going to assume that the current bathroom is being torn out and completely rebuilt.
We've broken it down into number of days per task. It is possible that some of these tasks may take slightly longer, some slightly less time. Some may not be required at all, and some may be able to be done at the same time as others – it really all depends on what you start with. We have also assumed that all of these tasks are being undertaken by skilled professionals and not DIYers with little experience.
photo credit: road_less_trvled via photopin cc
| | | |
| --- | --- | --- |
| Task | Suggested Time Allowed | Details |
| Demolition and removal of existing bathroom | 1-2days | This task can be made more difficult if the bathroom is upstairs or in an area where moving things out could be difficult. It is also complicated by any plumbing needs – such as isolating and turning off water supplies etc. Tiles may need to be removed from floor and walls |
| Joinery | 1 day | This may not be necessary – it will depend on the structure and condition of any wood work in the original bathroom |
| Plastering | 1-2 days | Depending on the state of the walls, this may not be necessary  – if tiles have been removed then it will be best to replaster, or at least skim the walls, and this could take a day or two to dry out. |
| Plumbing | 1-2 days | Another job that may not take too much time at all if the existing plumbing is sound and there is nothing being added or moved in the bathroom – introducing a new shower or moving a toilet will require some additional plumbing which will take time |
| Electrical | 1 day | A skilled  electrician should need only a couple of hours if simply rewiring existing supplies. |
| Installing bathroom furniture | 1-2 days | Fitting bath, basin, shower and toilet. This will involve some plumbing, and the time will depend on the number of items being installed |
| Tiling | 2-3 days | It is possible that you will not be doing any tiling, but even small areas of tiling will require time for  cement to set, and grout to be applied. |
| Cabinet and other fixtures | 1 day | Fairly straightforward to hang bathroom cabinets and towel rails etc |
| Flooring | 1-2 days | Vinyl flooring can be put down in a morning, but engineered flooring or tiling will obviously take much longer, particularly if underfloor heating is being included too. |
| Miscellaneous | 1 day | Leave some time for the little things –  adding a personal touch, like towels and ornaments etc. |
| TOTAL | 17 | |
This schedule will vary depending on the level of renovation. Some of these tasks may well overlap, saving time, and it may be convenient to complete some of them in a slightly different sequence.
Whatever you do – be prepared for some inconvenience. Don't be tempted to rush – it will be worth the wait, and enjoy your new bathroom