How do you start your day?
Are you a morning or a night person? Do you bounce out of bed and hit the day running or do you constantly switch the alarm to snooze? There's no doubt that our relationship with our bed is stronger for some than for others.
So whether you wake up ready to face the day or would rather delay it, how do you get yourself ready to face the world?
Morning routines
Perhaps the first thing you do in the morning is go for a run or to the gym. When you return home obviously you will want to freshen up with a shower and get on with your day.
For some we know mornings are about getting ready as quickly as possible before you head out the door. So you might choose to shower and bathe before bed and then just freshen up in the morning before dashing out the door.
Alternatively if you choose to use the morning for your ablutions, you probably get in the shower first. A refreshing shower will certainly clear away the sleepy dust and loosen all your muscles so that you feel refreshed.
If your household has a queue of other family members waiting to use the bathroom there probably isn't much time to use this room in a leisurely fashion.  But you might find time to take a shave or don your war paint for the day – depending on your gender or maybe not.
Keeping up to date
Some of us like to listen to or watch the news as we get ready for our daily chores, whether they are at home or at work. There is nothing more annoying than having to miss parts of the news because you are in the bathroom.
Of course a portable radio was long the object of choice for this ritual, but modern technology can also make this more easily achievable too. Water resistant TVs mean you can watch your favourite morning news channel lazing in the bath, taking a shower or in the luxury of a wet room. Sounds perfect.
An alternative is a mirror with a built in screen to show your morning choice while you shave and put on your make-up.
If music is your thing
There are now any number of digital music channels you can access on TV so if you prefer some delicate or rousing classical tunes or something more modern to wake you up, you can tune-in to one of the many channels. Music 6 seems to be a favourite but this far from the only channel to whet your appetite; many digital channels, are often locally based and give you the local news and weather too.
Or maybe you prefer a DAB radio to tune you into your morning song choices, the ones you can sing along too. We know how many of you love to sing in the shower. So that's a work out for your vocal 'muscles' as well.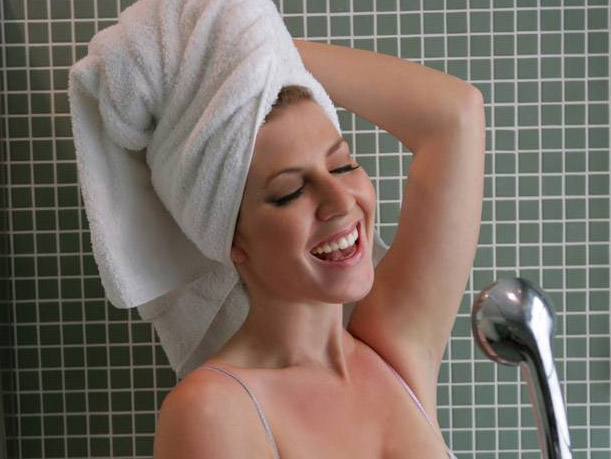 However you start your day, we have the perfect accessories to make your daily routine one of your favourite rituals of the day.