Garden ideas to steal from Chelsea Flower Show 2015
Every year Chelsea Flower Show fever hits the UK and now with much TV coverage it is accessible to everyone.
Were you inspired to get out in your garden after visiting or watching the show? Do you want to try a complete make-over or just inject some new plants into your borders?
Here's some of our best loved gardens and products from the show:
The Telegraph's Mondrian inspired gardens was one of our favourite. Piet Mondrian was a 19th/20th Century Dutch artist whose geometrical paintings are easily recognised.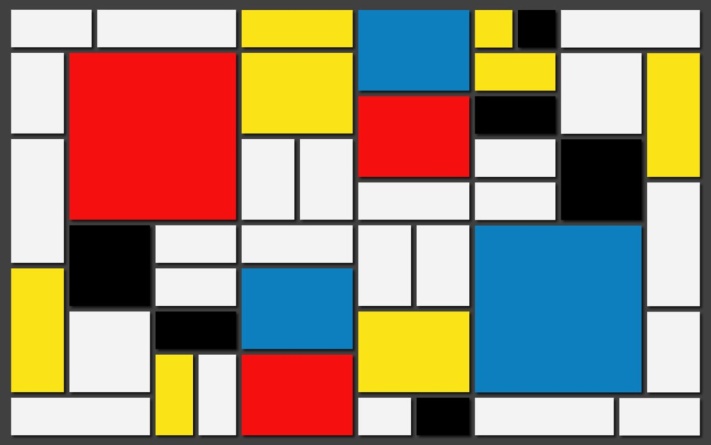 The Telegraph garden used the rectangle format to create clean spaces with paving and planting. The garden was organised in blocks of planting in predominantly yellows and white on square and oblong 'islands', some raised above the others.
White paving is used to make the imitation of a Mondrian painting as the wall set at the back of the garden and also paving between the planting along with slate pebbles.
Squares and rectangles of panting and paving would be easy to reinvent in even the smallest gardens.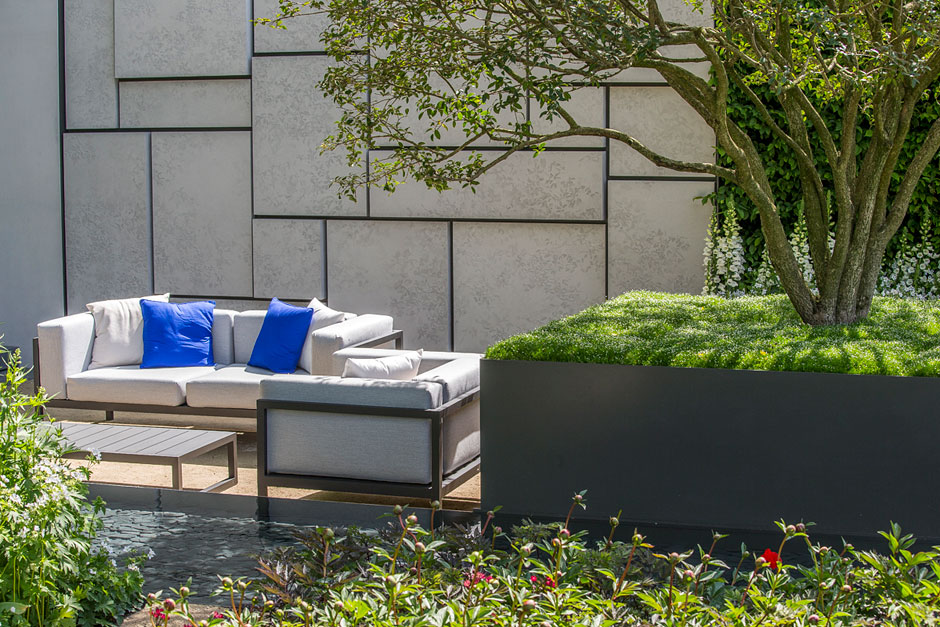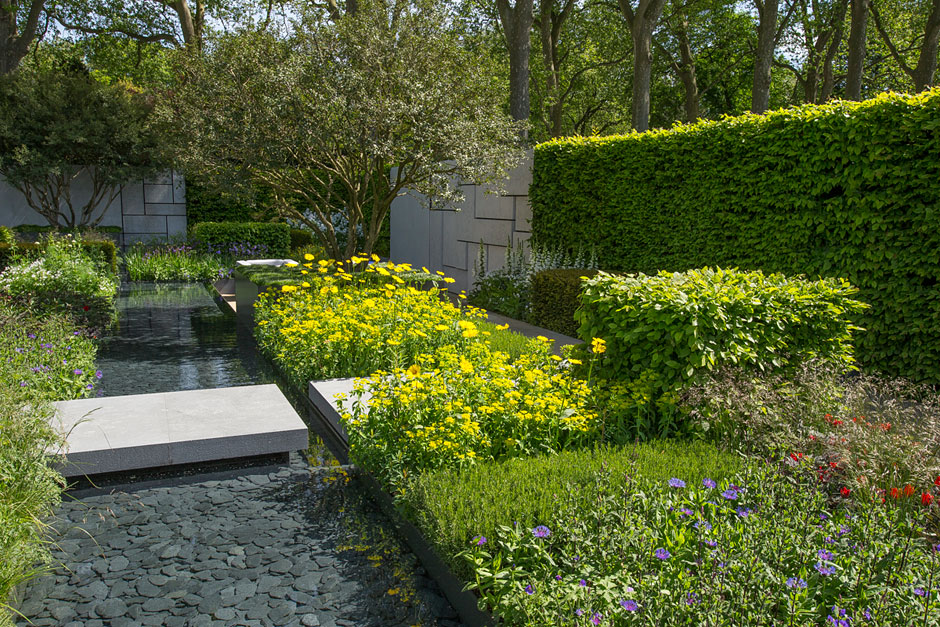 Images courtesy of RHS Chelsea
Healthy Cities
We also loved the symmetry and planting in the Morgan Stanley Healthy Cities Garden designed by Chris Beardshaw. Different levels of box hedging edged the wide paved pathways. The planting was a mass of purples, blues and pinks with splashes of this year's 'in' colour orange.
Chris used Alliums, Iris, Lupins, foxgloves and poppies among is planting choices.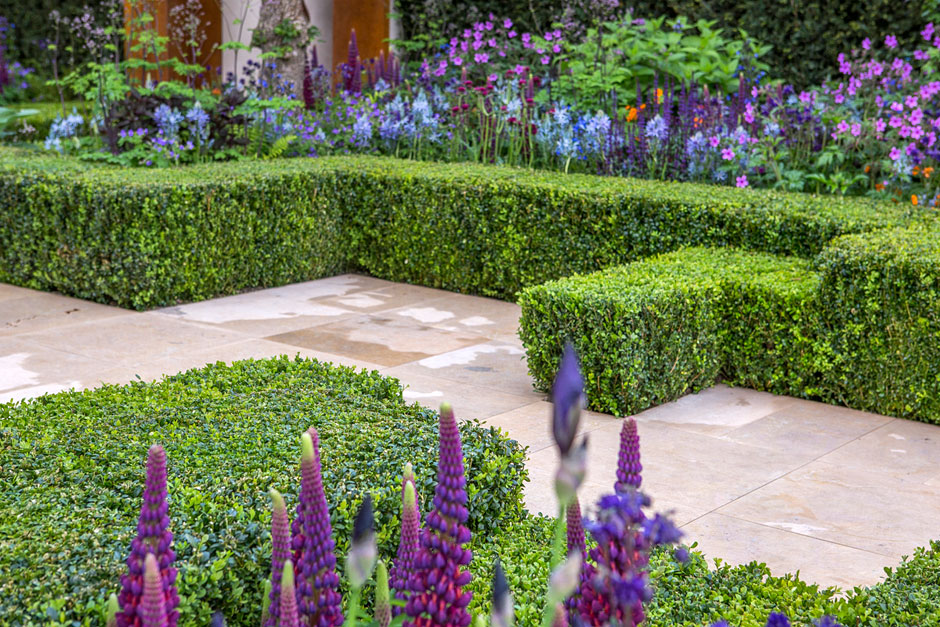 The Morgan Stanley Healthy Cities Garden
A People's Choice winner
Prince Harry's charity was represented in the Sentebale – Hope in Vulnerability Garden; the charity works in the tiny African country of Lethoso to try to erase the stigma of HIV in children. The garden also had some amazing planting again showing a lot of spiky succulents that might exist in warmer climates plus golden Kniphofia and more of those wonderful purples of Lupins with oranges and rape-seed oil plants. Did anyone spot the native poppy to Lesotho where the Children's Centre referenced in the garden is based?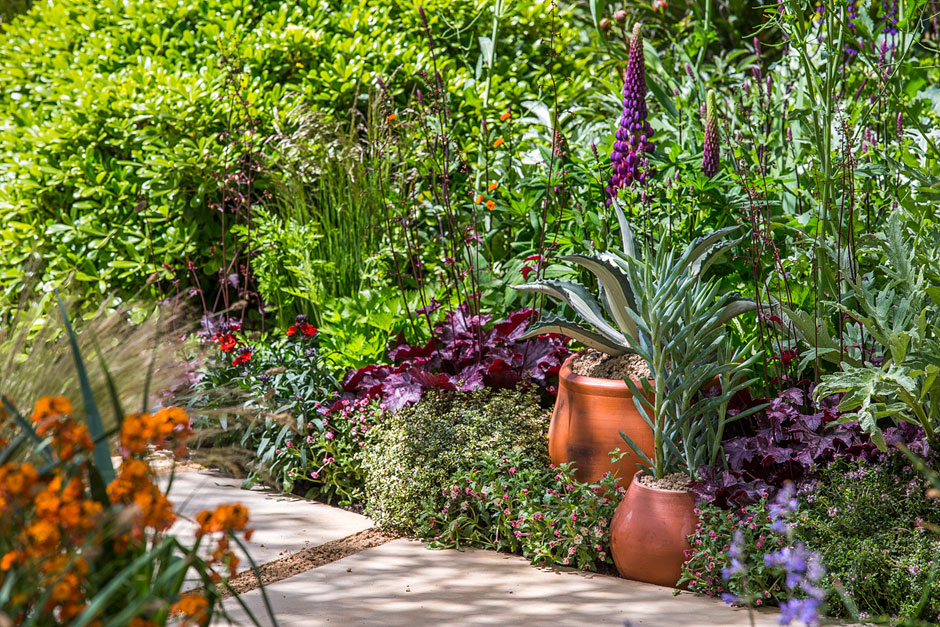 Sentebale – Hope in Vulnerability Garden
Creating a vision
In the Fresh gardens category there were a couple of striking gardens where water played a big part.
The first of these was the World Vision garden designed to raise awareness of the food shortages and poverty of children in Cambodia. Here the planting was almost all water plants interspersed with orange translucent rods representing rice in the paddy fields. Garden sculpture comes in many forms.
Other forms of sculpture were also very visible in the show gardens from large abstract creations built with slate tiles to wire men and even wooden sculptures in the form of gnarly trees.  Another interesting one was created by Sean Murray winner of the BBC Garden Challenge. His sculpture was made of tins held together in a circle and rusting naturally.
There are plenty of options on the market if you fancy indulging your garden with a sculpture to add height or interest.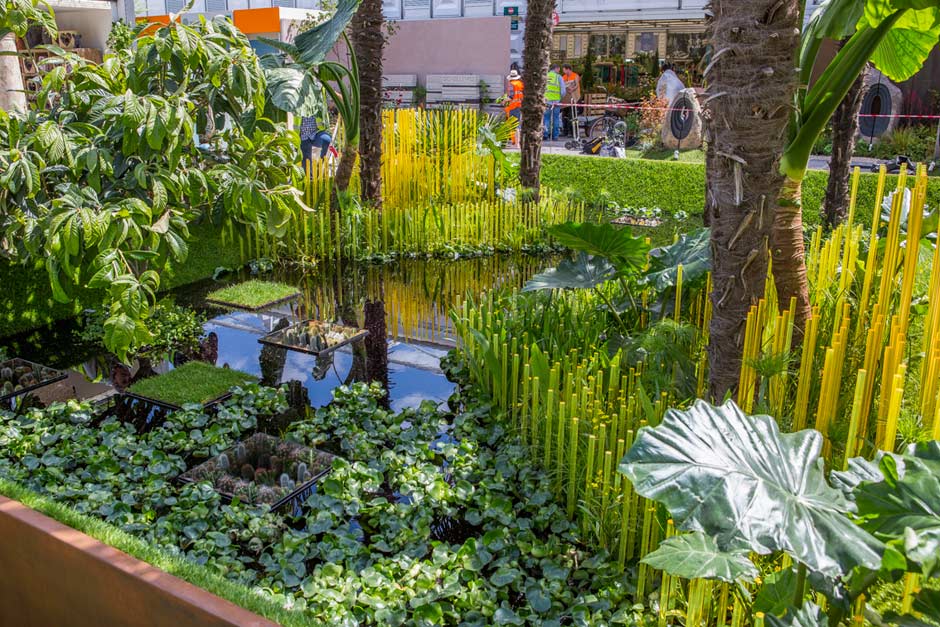 Water Vision Garden (Fresh category)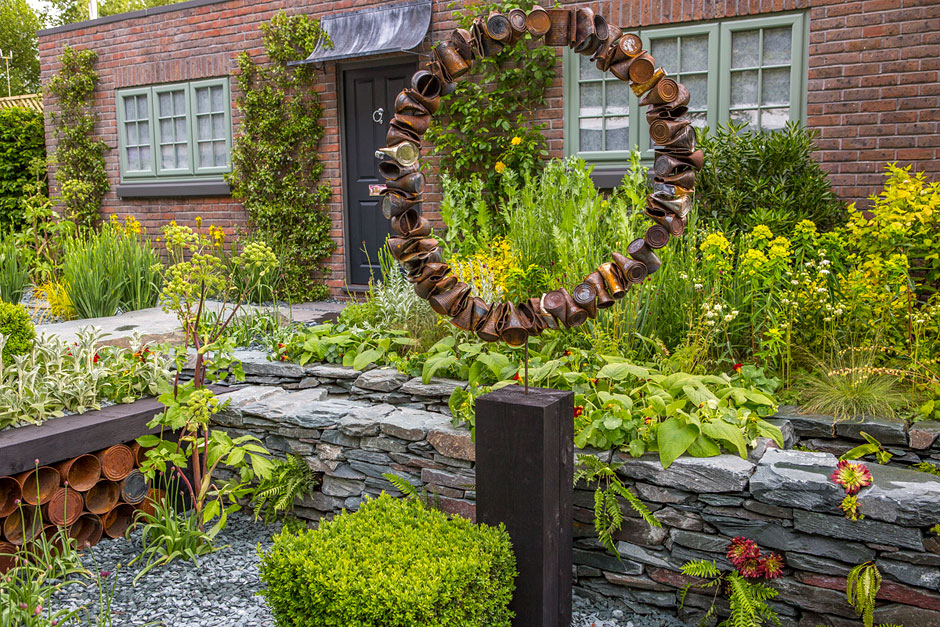 Sean Murray's garden sculpture
More water features
Again on a large scale, the tunnel of cascading water from a Perspex balcony in the Home – Personal Universe Garden, another in Fresh gardens category, really caught our eye. Most of us probably have gardens and budgets for something less spectacular but the sound of water can be very soothing in a garden.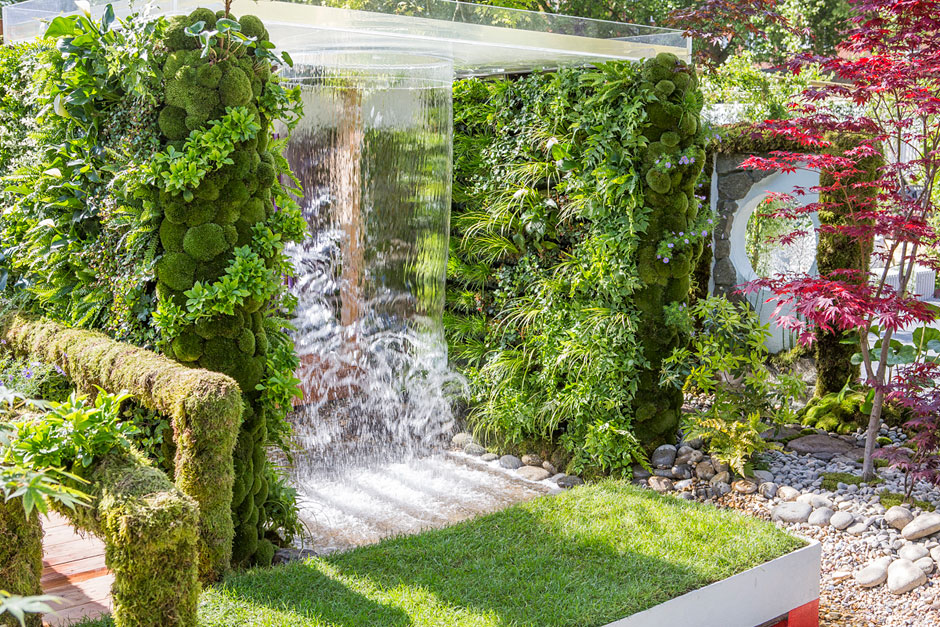 Home: Personal Universe Garden
Something less grand and again made by Sean Murray in his 'front garden' is a water feature made from two rusted pipes which protrude from two sleepers holding an insect hotel of rusty, old tin cans. Very inventive.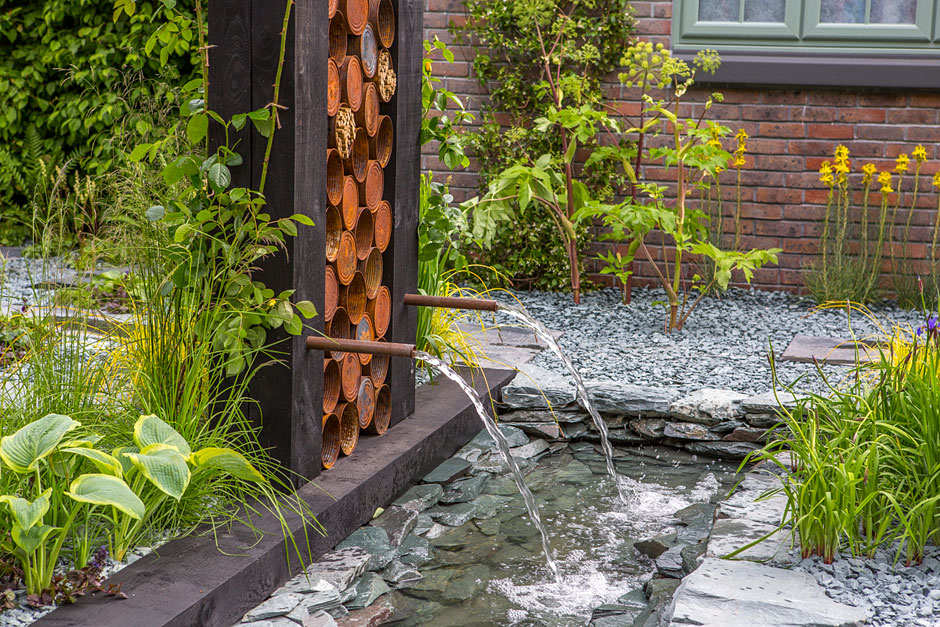 Water feature and insect hotel by Sean Murray
A final word
Follow the trend for wild planting, the biggest one seen at the show or take the people's favourite plants to your heart and plant them in your garden. The top one was the delicate, perfumed Lily of the Valley, followed by another perfumed beauty, the sweet pea and followed by Jasmine. Your garden would smell sweet from spring to summer with those three beauties.