Every inch of the room counts
We're pretty good at utilising the available space in our homes to squeeze in an en suite here and a wet room there. But one of the biggest challenges has to be how to fit a fully-usable bathroom into a loft space.
With sloping roofs and awkward layouts to contend with, it's not always easy to fit everything in, but we've found a few examples to lift your spirits and provide inspiration.
Bathing under the eaves
Apart from getting into the bath, standing is the least of our objectives when a good soak is in order. Therefore, placing your bath under the eaves makes perfect sense. It also frees up other full-height areas to house the shower, sink and toilet which involve activities that require standing.
This particular bathroom keeps things white and bright with painted wood and tiled walls. An incorporated tiled shelf behind the freestanding bath and a central drain in the tiled floor, address the bathroom's dual status as a wet room with double shower. Industrial style lighting keeps the bathroom bang on trend with the Industrial Revolution.
Period beams act as framing for this aluminium bath which takes centre stage against a statement wall under the eaves.
A beautiful free standing ball and claw-foot bath accentuates the positives in this bathroom dominated by eaves and an awkward layout.
Showering under the eaves
Squeezing a shower into a loft bathroom can be problematic, but clever design can overcome this hurdle even in the narrowest of spaces that are all about the eaves.
This bathroom utilises the limited full-height space to the max to feature a shower, toilet and sink. These areas are defined by white tiling on the wall and a square of tiling on the floor for the shower, which undoubtedly features the essential drain.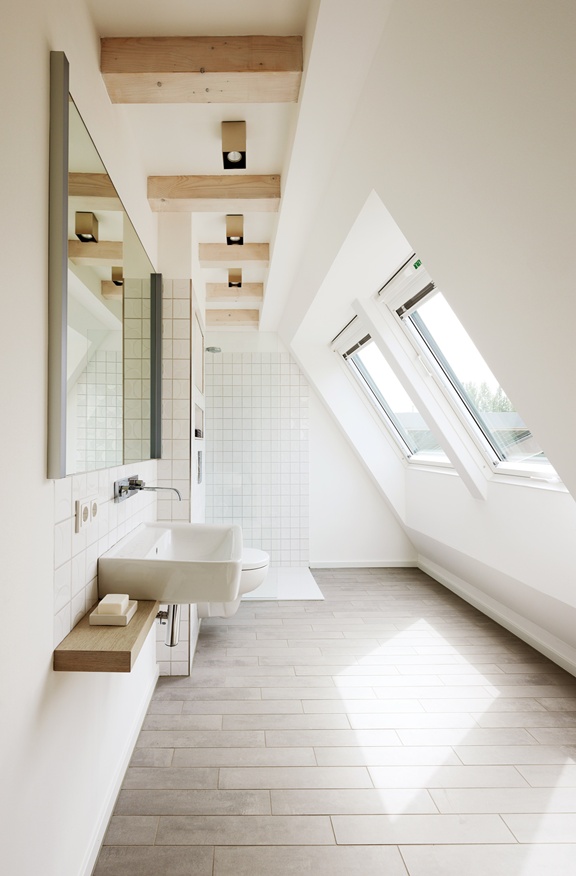 Depending on the slope of your roof and position of your Velux windows, showers can also be enclosed under the eaves to fully utilise the space.
Or partially enclosed which allows you to just install a standard shower screen at the full-height point of your bathroom. This also helps to keep the space feeling airy and accessible.
Shower and bath combined
When space prevents you from having both a bath and a shower, the easiest solution is to combine the two. That way you still get the best of both worlds, allowing you to stretch out in a full-sized bath and stand tall in a full-sized shower.
Baths are available in various lengths and widths to help combat the space issue under the eaves. And contemporary frameless bath shower screens are available with or without frosted modesty strips in folding or non-folding styles to keep your bathroom floor dry. If your space is particularly awkward, made-to-measure bath shower screens are also available.
You'll find a huge range of contemporary designer showers and baths, as well as bath shower screens and shower enclosures at Livinghouse.