Bathroom trends for 2015
The main topics of discussion in the New Year's media are the weather, getting fit and healthy or forecasts of the coming year's trends.
Towards the end of last year, Pantone, the colour guru, named the colour of the year for 2015 as Marsala. But of course trends are far bigger than just colours.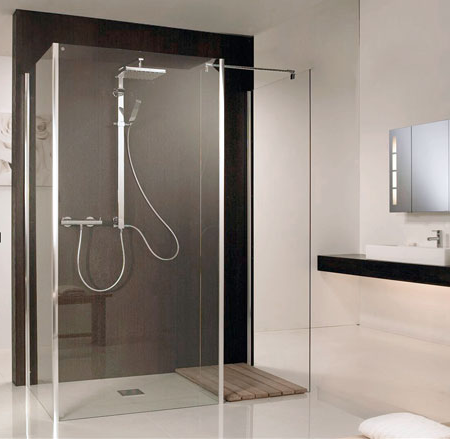 Influence from Italy
Browsing around we found a number of suggestions as to which direction bathroom design would head in 2015. The first was a report following the Milan Salone di Mobile in June last year. This design show features mainly furniture and is a renowned world leader.
The summary suggested that the bathroom is likely to become the 'heart of the home' i.e. somewhere we can relax. As such colours and textures would be warmer – no more stark whites and florescent lighting – and might well include other furniture more usually found in other rooms. Suggestions included bookshelves, dressing tables and comfy chairs.
One of other main trends that we found on several sites was the idea that showering is now more popular than bathing. This could be to do with the fast-pace lives we lead or just the improvement of the showers available.
Falling water
Popular predictions suggested that more and more of us might do away with the bath tub altogether. This would leave more room for larger showers where at least two people could use them at the same time! Use of flush shower trays and frameless glass cubicles all help to make them easily accessible and enlarge the perception of the room.
The all important shower spray from rainfall to multi-function shower towers also ensures that the experience is like taking a walk in the warm rain.
Can't live without a bath
If you can't bear the thought of living without a bath tub, then the trend is definitely for free-standing ones. Their modern looks (or even vintage-style looks) somehow make them more inviting. They are easy to install and offer choices of taps that include floor-standing or wall mounted for really modern looks.
On the trend list
Also on the 2015 on-trend lists are double sinks and under-floor heating. Both offer a sense of luxury.
If you have room a double or 'his and hers' sinks look amazing and of course offer the opportunity for sharing your space and cutting down getting ready time.
They are most often used in en-suite rooms so that those sharing the Master Bedroom can also use the facilities together if they so choose.
They could also be useful in a family bathroom especially when the children are young for the teeth cleaning rituals at least!
Under-floor heating in the bathroom should be enforced by law! Stepping out of the shower or the bath tub onto a warm floor is just heaven and really makes 'bath time' a pleasure whatever the temperature outside.
Under-floor heating is also perfect for drying floors/tiles in wet rooms quickly.
Does this make you want to update your bathroom?