Shower Worshippers
According to one popular style magazine, showers are all we have time for in our busy lives. A quick shower is also better for our pockets and the planet too, but which do you prefer?
Do you love wallowing in a deep, hot bath until your skin crinkles? Or is your life just too busy?
Cost effective
The shower is generally more cost effective. A six minute shower costs approximately 1 kilowatt hour of energy, so you can even calculate how much you're spending on heating up your electric shower every time. If you have a power shower it may cost a little more as you are heating the water at source.
Filling the bath with hot water can also cost more in energy and water, so depending on your concerns for your pocket and the planet, a shower may fit the bill for you.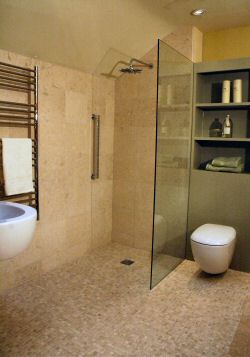 Ditching the bath altogether
Many people decide to ditch the bath completely – a brave move as the next buyers of your house may have different ideas. But there is some thought that a main family bathroom with a bath is sufficient, and all other bathrooms are adequately equipped with showers alone. There's also the benefit of more space.
It's true that showers these days are modern and chic, and can look just as magnificent as the sleek, designer baths on offer. But can a shower become the focus point of your bathroom in quite the same way?
Well there are some amazing chic all-glass cubicles available, along with flat to the floor shower trays, which also help to add to the minimal feel of a shower.
All that glass
One thing's for sure, all that glass can look magnificent, as long as you can keep it shiny and clean. It's very easy for calcium build-ups to appear, especially in hard water areas, and make your beautiful glass enclosure look dingy and not at all inviting.
Invest in a shower squeegee which you use after every shower to 'wipe away' any soap left on the glass. Another suggestion is to use a damp 'disposable towel' intended for use in the tumble dryer to finish your shower glass as this also removes any left over sediment.
If it is really stubborn, vinegar may move it or a magic bathroom eraser which really does seem to work the magic here. Using a shower shine product usually makes the clean glass shine too – as good as new.
To avoid this issue in the first place, you can purchase shower glass with easy-clean anti-calcium treatments already applied. Or apply the treatment yourself with an anti-calcium kit.
So where do you stand? Still firmly with both feet in the bath, or could you be converted to a shower-only routine?