New Year, New Ideas
There's a new year's batch of 'home' shows coming up filled with ideas to inspire you and make you want to revamp your whole home.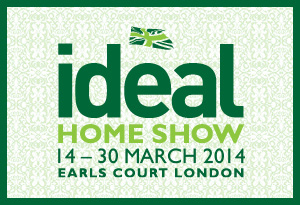 Earls Court, 14 – 30 March
This long running show is 105 years old. The first show was organised by the Daily Mail in 1905 to bring new gadgets to the attention of the growing band of home owners. Innovation is what has kept the Ideal Home show at the top and has seen many products launched, such as the electric kettle and toaster (1920), the microwave (1947) and the electric grass mower (1970).
Now organised by Media 10 Ltd, the same company that is behind some other interior favourites – Grand Designs Live and 100% Design.
One of the best loved and unique features of the Ideal Home Exhibition is their show homes. Every year they have three or more completely built houses at the exhibition which are designed and furnished. All this helps visitors to visualise just how their own homes could look.
There are plenty of demonstrations and talks by experts such as George Clarke, Alan Titchmarsh and Laurence Llewelyn-Bowen.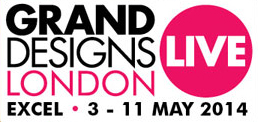 London Excel, 3 – 11 May
Another exhibition from the Media 10 stable, but not as old as the Ideal Home Exhibition. Grand Designs Live is a direct spin off of the TV programme where Kevin McCloud has waxed lyrical and otherwise for several years.
At the Grand Theatre you can hear top tips and discussion about pressing issues from many of the celebrities including Kevin McCloud himself and George Clarke, as well as many other top industry experts. There's also practical demonstrations of everything from plastering to soft furnishings.
There'll be a number of stands featuring Kevin's Green Heroes, all offering products and technologies to improve your ecological builds and renovations.
In the popular Ask an Expert section you can grab a 30 minute free consultation on any aspect of your build or renovation – a priceless opportunity.
And in the Live Kitchen you can see cooking techniques demonstrated – and get a taste too if you're lucky.
They'll be plenty of room sets to inspire you for many different rooms throughout the home, whether you are starting them from scratch or trying to give them a boost and an injection of energy.
You can expect 500+ exhibitors across a variety of sectors including Kitchen and Bathroom with ideas and products for you. These are the two big refurb rooms in any house and always worth a look to see the latest innovations.
These two London shows this spring should set you up with plenty ideas to improve or rejuvenate your home.