Indoor Outdoor Bathrooms
Being able to bathe under the stars holds a really romantic dream, but in our climate it's quite an unrealistic plan. Unless of course you're one of those people who enjoys hot saunas followed by ice cold showers.
No bathtub filled with hot water in our outdoors would retain the heat without any other heating means. And that would probably be neither economical nor eco-friendly. The closest we have to this is the hot tub, but obviously this is not intended for washing – it might help with relaxing though.
Warmer parts of the planet
In warmer climes, bathing outdoors (or an indoor bathroom that opens to the outside world) is a dream — but one that could become reality. If the magazine pictures and brochures are to be believed, this is a true reflection of designer bathrooms in many parts of the world.
One idyllic scene captures freestanding baths and glass walls opening out to show off a far uninhabited vista. Others might include a sea view, or perhaps a secluded garden. Just as with all other décor, the choice maybe guided by the surroundings, but it's still down to the individual.
Natural light
For those of us who live in the northern hemisphere, where outside bathrooms aren't so inviting; a fair substitute is to provide as much natural light to the bathroom as possible.
If you don't have enough natural light in your bathroom, look at ways to introduce more – maybe add an extra window? If you have roof space above your bathroom, consider adding a skylight to brighten the room.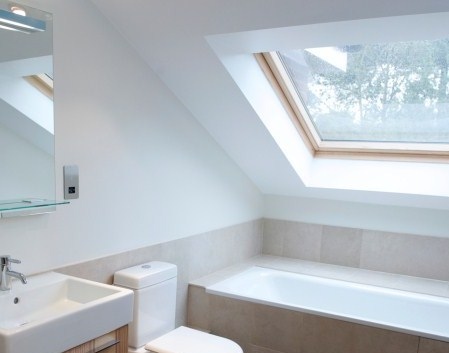 Creating the mood with artificial lighting
If your only lighting is artificial, ensure that all areas are well lit enough to be functional. Even incorporate some extra task lighting, for shaving, applying make-up, etc. Illuminated mirrors are the obvious answer here.
LED lighting strips in the ceiling can give you a twinkling starlit effect. These days almost anything is possible if you have the budget.
In fact the only thing we can't recreate accurately is that beautiful sunshine and those 'to-die-for' sunsets, but we can surely try!