How to Choose the Right Bathroom Mirror
No bathroom can do without a mirror, but there are ways of making your bathroom mirror the real centrepiece of your bathroom design.
Ambience
Simply replacing your existing mirror with a larger one or adding a new one will do wonders for the ambience of your bathroom.  After the windows the mirror is the most effective way of increasing the visual size of your bathroom. Placing a full scale mirror in your bathroom could give it a whole new dimension of space, and can make bathrooms that suffer from a cramped atmosphere feel far more spacious.
Size & Position
The first thing to consider when  adding a new mirror to your bathroom is size. Mirrors can be too big at times – if you are installing a standalone vanity mirror, you might end up making the bathroom seem smaller by filling  precious spare space with the mirror.  Popular positions for mirrors include above the sink and on spare empty stretches of wall. Of course, you cannot fit a full length mirror above a sink, so consider position as well as size. If you are planning to install a wall mounted mirror yourself, you should be very careful and specific about measurements. If you want guaranteed success with this, it might be better to seek professional assistance.
The Mirror
Most bathroom cabinets are already fitted with a bathroom mirror, but if you prefer a standalone mirror  in your bathroom, you should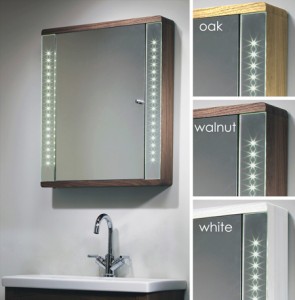 remember not all mirrors are designed for bathrooms and could lose their clarity in the moist conditions. Buy a mirror specifically designed for bathroom use and you should get many years of clear reflection from it.
Customization
There might seem like little scope for customizing and personalizing mirrors, as any tampering with the mirror itself will impair the clarity of its reflections. However, there is plenty of potential for customization with frames and borders. If you are are thinking of adding a standalone mirror to your bathroom, it would certainly add to your bathroom's style if you had the frame designed to suit the feel of your bathroom. However, remember that these frames and other such customizations should be able to withstand the damp conditions of your bathroom.
Bathroom mirrors can  now include a heated panel, or lighting, and most good bathroom suppliers carry an extensive range of mirrors.