Central Heating Radiators
Radiators are no longer the ugly but necessary horrors they once were.  They are far more efficient than they used to be and are now available in a range of styles to suit most homes.
You now have the choice between ultra modern radiators and traditional cast iron radiators, depending on the style of your home.
Modern, innovative designs can be discreet or stand out as a prominent focal feature.
Flat panel radiators are available in a range of sizes and contemporary colours, and can be used horizontally or vertically
Tube or fin style radiators with oval square and pepperpot shaped tubes
Mirror panels, some with etchings, and often available in a "condensation free" finish  for bathrooms
Chrome radiators available in highly polished or brushed, and also with etched patterns.
Glass panels with invisible heating rods
For traditionalists old fashioned cast-iron radiators are still available but with much improved efficiency. Victorian cast iron radiators can be bought in a whole range of modern and traditional colours.
Size Matters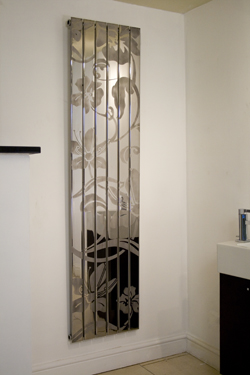 The most important part of choosing a radiator is to make sure you get the right size radiator for every room – too small and it won't be warm enough – too big and it will be inefficient and expensive. Your supplier should be able to do this for you, or supply you with the manufacturer's heat loss calculations. The other important consideration is placement of your radiator. From an efficiency point of view the best place is usually the coldest part of the wall – probably under a window. If this is not practical, or not desirable, a skilled installer can advise on still getting the most efficient performance from any other position. A large single panel radiator will be more efficient than a smaller double panel radiator offering a similar heat output, and if space allows is the best choice.
Central heating radiators are now an important part of the design element of a new room – right up there with choosing flooring, wall colours and other aspects of interior design.