The Benefits of Wooden Floors
Aesthetically, wooden floors look beautiful. They are hard wearing and warm underfoot, and a real bonus: they add value to your home. They can also be a healthier option as they collect less dust and allergens than carpet or other floor coverings.
There is no doubt that the look of a sold wood floor enhances any home.  The fact that homes with sold wood flooring sell for higher prices than similar properties without, confirm the benefit of this investment.  Wood flooring lasts longer than carpets or lino too.
Solid wood flooring
Solid wood flooring is suitable to screw either directly onto existing floorboards or joists and even to chipboard or plywood.  It can also be glued on a suitable underlay that has damp-proof and thermal properties.
Using a professional to lay your floor is advisable.  They will know to leave room for expansion and contraction for this natural product.  You can purchase wooden flooring that has been pre-finished making it easy to lay and instantly ready.  The unfinished solid wood has to be finished once laid.
Engineered wood flooring
Engineered wood flooring has a top layer of solid wood (6mm) which is bonded onto plyboard.  This gives them the same look as a solid wood floor.  As with solid wood, these can be laid finished or unfinished.
Engineered wood is more tolerant to humidity changes in the air and doesn't need that same allowance for expansion and contraction that solid wood does.  It is perfect to lay over under floor heating too.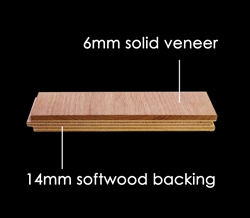 Different woods
Both types of wood flooring are available from Livinghouse in a range of finishes.  Solid wood choices include Oak, Elm, Walnut and the very durable Jatoba in wide planks as well as normal and parquet flooring blocks.  Engineered wood flooring is available as Oak, Walnut, Teak, Maple, Wenge and Merbau.  The oak engineered flooring is available in a number of different width planks.