Art Deco Bathrooms
Art deco began in the early years of the 20th century. It really came into its own in cities like New York in the 1920s and 30s, as architects adopted an art deco style when designing buildings. New York is still thought of as an art deco city, even thought the style is no longer as popular as it once was.
Art deco is a style that has remained popular for everything from buildings to bathrooms, and it is a unique style although it incorporates many different styles, yet is directly comparable to none.
It was thought that styles from past eras were few and far between as far as bathrooms went. It was either a choice between modern minimalism or claw-footed bathtubs of Victorian eras. Art deco offers the perfect alternative to both of these styles, keeping the appealing minimalism of modern bathrooms with the elegance of the past.
There are only a handful of bathroom ranges that truly capture the distinctive art deco essence. Livinghouse are proud to feature the Lulu Art Collection, a range of exclusively Art Deco bathroom furniture (see our range here). The sleek Italian design of the bathrooms and basins is complemented perfectly by the arching, elegant design of the taps and other accessories.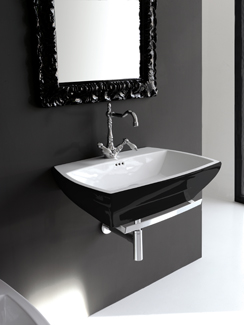 An art deco style bathroom is one that would suit stylish households. If your household strikes a balance between modern minimalism and past elegance, you might have thought it difficult to find a style of bathroom that complements the rest of your house, but an art deco style bathroom would be the perfect choice in such a situation.