Get ready for an Industrial Revolution in your bathroom
The latest trend, Industrial Revolution, sees interiors embracing distressed finishes, exposed pipes, brickwork and beams inspired by the factories, wharfs and mills associated with the Industrial era.
Fans of minimalist design will love the trend's use of metal, glass and concrete, whilst vintage fans will find comfort and warmth in the distressed finishes and vintage pieces.
Vintage storage
You can never have enough storage, right? This attractive vintage cabinet fits the industrial trend perfectly and is ideal for storing essential knick-knacks that tend to dominate bathroom space. Tall and slim, its proportions are almost made for the bathroom and with 56 drawers even the biggest collection of beauty and grooming products can be easily contained.
Keep an eye out for interesting storage solutions at auctions, reclamation yards, car boots, charity shops and via online auction sites.
Industrial lighting
It's easy to see why industrial lighting is already a massive trend in commercial spaces such as restaurants. Often featuring exposed light bulbs and filaments, it can provide either subdued lighting to evoke a relaxed feel or bright task lighting, making it perfect for the bathroom.
Key elements of the industrial lighting trend include, black or stainless steel, brass, copper, clear glass, retro style light bulbs, rivets, wire caging and industrial hardware.
Made by the Forge lighting seen at the London Design Festival and designjunction 2014.
Stainless steel splash backs
Durable, hard wearing and easy to keep clean, stainless steel appliances and splash backs are commonplace in commercial kitchens. They've also become a firm favourite in domestic kitchens over the years too.
In keeping with the industrial trend, stainless steel splash backs also look amazing as the backdrop to sinks and baths in the bathroom. As stainless steel is nonporous it doesn't absorb moisture, making it suitable for wet environments. And as if that wasn't enough to tempt you, these types of splash backs are screwed to the wall, rather than adhered like tiles, making them easy to remove and replace when you want to update your bathroom.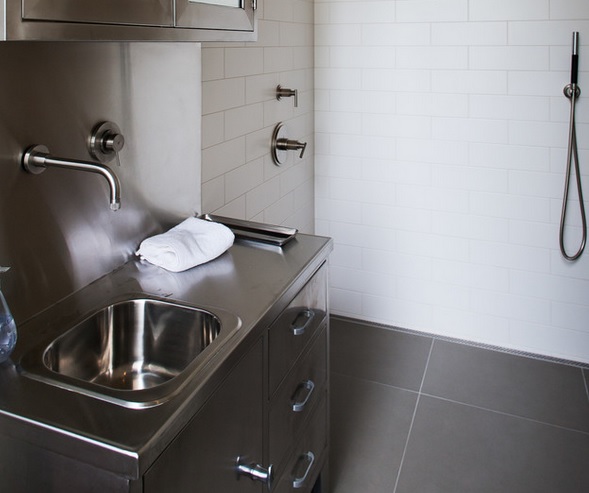 Exposed pipes
Sometimes interior design is about embracing the flaws in your space rather than fighting them. The industrial trend is perfect for highlighting exposed pipes and utilising nooks and crannies as design features. So don't attempt to disguise them poorly, incorporate them into your design instead.
Sliding metal doors
Space allowing, replace your bathroom door with a sliding metal alternative to evoke an open loft apartment feel and be bang on trend with the Industrial Revolution. Head to your nearest reclamation yard with tape measure in hand and you might just find the perfect match for your space.
Made to measure
If you love to think outside the box, why not create your own counter top from scaffolding planks and poles to perch your sink on? Building your own gives you complete control over the height and width to ensure it fits your bathroom space.