A fresh take on headboards
What do headboards bring to bedroom design? Well, on a practical level they can provide integral storage, a handy shelf and a comfortable resting place. On an aesthetic level, they can draw the eye to the main player of the room – the bed – as well as frame it and anchor it within your overall design.
Whilst many modern and traditional headboards are widely available, we love the idea of creating your own to bring an unexpected twist to your bed. From re-purposing reclaimed wood and old doors, to using mirrors, fabric, paint and chalk, getting creative with your headboard allows you to make a real design statement in your bedroom.
Fireplaces
Yes it's a shame to cover up a period fireplace, but if it limits where you can position your bed, then this is a great solution. Not only does it make an amazing headboard, but you also gain a handy shelf above your bed too.
If yours is an original feature, then it's probably best to block off the fireplace to limit drafts and spiders. If you don't have an existing fireplace, then a reclaimed mantelpiece can be attached to the wall to create the same effect.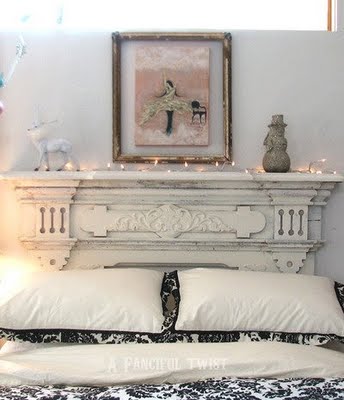 Mirrors
An oversized ornate mirror can add dramatic effect as well as help bounce light around your bedroom when used as a headboard. Just paint the frame to match or complement your room design and you're good to go.
Alternatively you could forget the mirror altogether and just utilise the frame instead. Use it to frame patterned fabric, wallpaper or a block of painted colour that contrasts with the rest of your colour scheme. The possibilities are endless.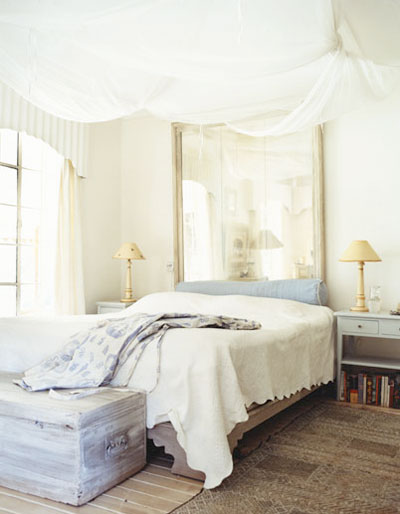 Wood
For a beachy or rustic feel, reclaimed wood brings warmth and a natural feel to headboards. With a little love and attention, planks of wood, old doors and discarded pallets can give a new twist to this bedroom staple.
Tiles and 3D decorative wall panels
Creating a headboard made from tactile leather tiles is easy and really effective. The tiles can be adhered directly to the wall to create a headboard of massive proportions that truly defines the sleeping area.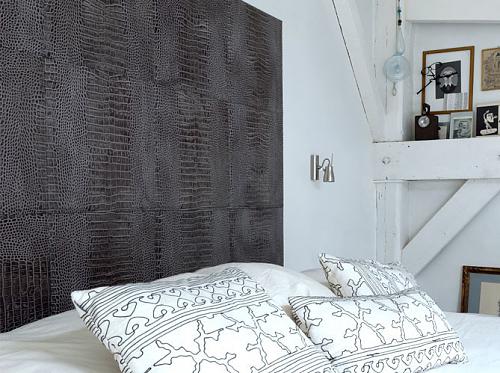 Not a fan of leather? Then how about 3D decorative wall panels as an alternative? Again these come in tile form and can easily be adhered to the wall to bring scale. Just add lighting to exploit their pattern and texture.
Chalk
Here's another great idea. Using a chalkboard as your headboard allows you to write your own inspiring wakeup call or clearly convey which side of the bed is yours. It's also pretty handy for jotting down your to do list for the next day or any thoughts that fill your head just before you nod off.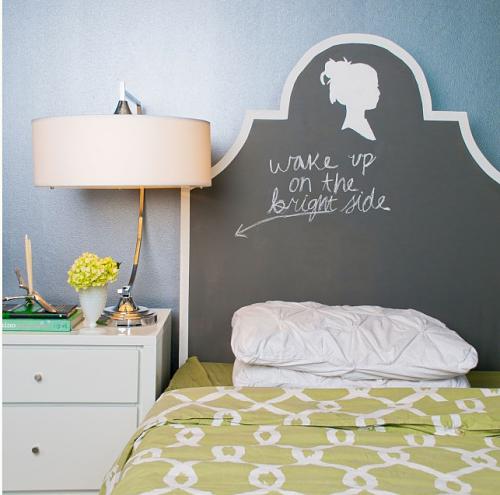 Alternatively, paint your wall with blackboard paint and get creative with a chalk interpretation of a headboard.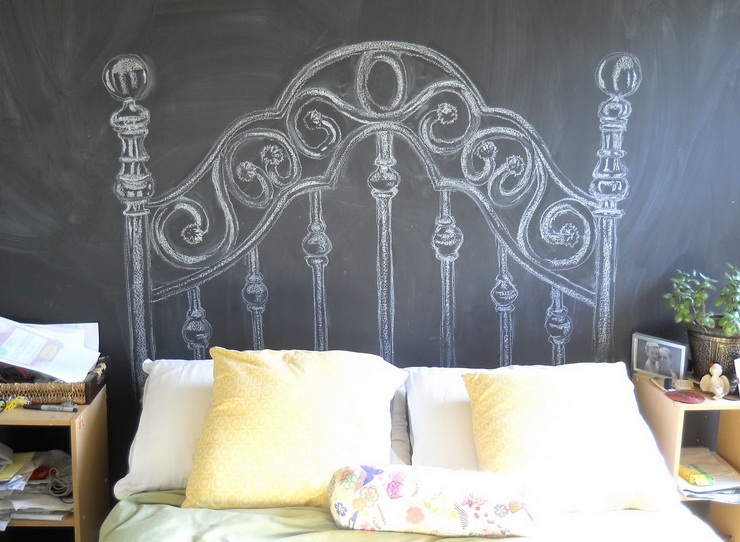 Shutters and screens
Love shutters but don't have windows that will do them justice? Then fix them to the wall to make a charming headboard instead.
For those of you who don't require your freestanding screen to hide your clutter or your modesty, positioning them at the head of your bed brings another take on the headboard.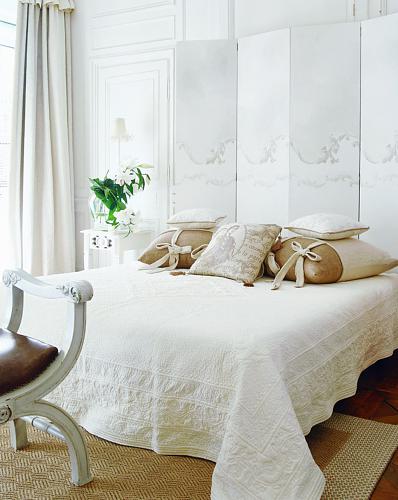 Fabric
And finally if you're quite content with your existing headboard, but fancy changing things up a bit, recover with lively fabric or sumptuous velvet to refresh your room design.