Creating optical illusions with paint
Paint is a relatively cheap medium that can be used to cover great expanses, whilst bringing a huge and varied range of colours to our interiors. It's also great for creating a sense of space, enhancing architectural details and creating optical illusions within our room designs.
Defining zones
London-based photographer, Alexander Kent, uses visual and conceptual tricks to explore physical boundaries and produce thought-provoking images as part of his Still Life photography. But we don't see why this great idea couldn't be utilised to give a playful and quirky slant on room zoning in interiors.
Why not take a leaf out of his book and define specific room zones using paint? This would work particularly well in loft style or open plan interiors as a way to highlight certain areas and their functions.
Optimising the art of illusion
There's no denying that shelves are incredibly handy, but they can lack personality. Yes you could paint them to give them more character, but why not go one better and elevate the humble shelf from purely practical to double-take status with a little trickery?
Paint an interpretation of an ornate side table directly onto your wall, top with a shelf and let the optical illusion work its magic.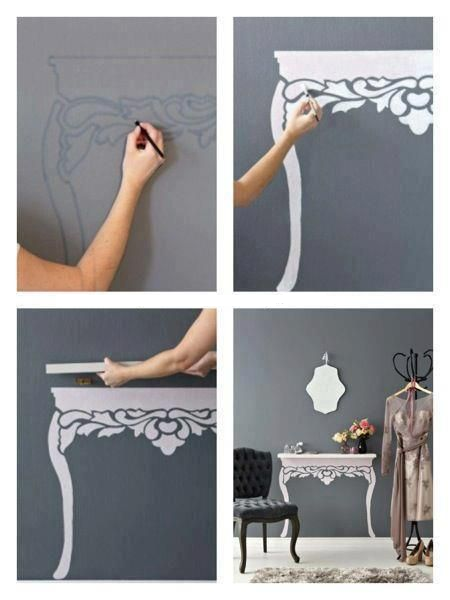 And when your bed is crying out for a headboard, get busy with the paint brush and create the illusion of one in the colour or colours of your choice.
Accentuating and creating architectural details
As we mentioned before, paint can highlight architectural details as well as create them. Admittedly you might need to beg a massive favour from interior designer, Laurence Llewelyn-Bowen, to recreate anything this intricate, but a simplified version will still bring a sense of grandeur to folding doors and walls.
Accentuating some architectural details with paint is more achievable than others, such as this beautiful period staircase. The matching carpet is a nice touch too, but not mandatory obviously.
Using paint to highlight doorways or mark entrances is an easy way to create instant drama and let the architectural details of your room take precedence. Vary the width of the painted border and the depth of colour to determine the level of drama you wish to create.
Expanding room dimensions
Bring a sense of space and fantasy with a multidimensional optical illusion. Mirrors have long been used to increase the sense of space in interiors, but a realistic paint job can draw the eye and help us see beyond a room's dimensions.
Again you'd need Laurence on speed dial to recreate this masterpiece, but you get the idea.
If this painting malarkey is all too much, why not source a great geometric wallpaper or floor tiles to create your desired optical illusion instead? Here a wardrobe has been covered in Cole & Sons wallpaper to give an interesting 3D effect.
And these amazing geometric floor tiles successfully liven up an all-white bathroom.