On yer bike!
The bizarre and extraordinary uses for 'old' bathroom fixtures never cease to amaze us at Livinghouse. We've found a few more sights for sore eyes around the web that we thought we'd share with you.
The cycle loo or Toilet Tricycle
This novelty was first put together by a student artist at the Camosun College of Visual Arts in Victoria, British Columbia. It was part of a project for the 'recyclistas group' but after receiving a lot of interest from female friends and students, the inventor decided to sell it.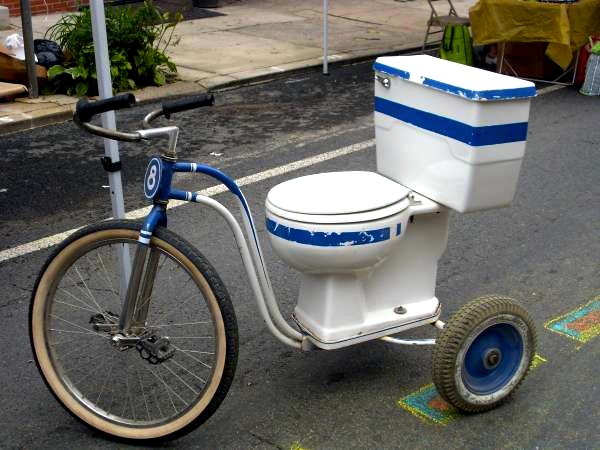 The Toilet Tricycle is made from an adult tricycle fitted with an 'old school' porcelain toilet complete with tank. The artist suggests you could use the tank for carrying parcels or shopping and the actual toilet bowl for larger items.
However if you were on a long journey on this rather heavy and 'clunky' fixed gear tricycle you could use it for its original purposes. Just slide the removable steel sheet out from the base and hey presto – all set to go!
The portable toilet seat
A little less unsightly is this portable toilet seat although its name isn't so appealing – Kamper Krapper.
But it is a beautifully carved and crafted wooden seat made to order by an Etsy seller.
You can actually take this with you when you need to visit a public toilet and put it over the seat before you sit down. Found on Trend Hunter they believe there is no embarrassment in carrying this seat around as no one will know what it is. They will now!
A built in plunger
The PUSHit toilet seat has just that. The toilet seat lid has a raised bump in it which when depressed acts as a plunger for those times when this unpleasant action is needed. You don't even have to see it in action as it only works when the seat is down.
There is no information about how the mechanism needs to be cleaned though.
Something all together more refined
The Inax Regio Smart toilet is much more inviting. It looks neat and could even be mistaken for a chic rubbish bin. As you approach it automatically lifts its lid, warms the seat and plays soothing music.
It also automatically deodorises the surrounding area.
There is no doubt that there are many toilets which offer different functions out there in our technological days. Toilets that self flush; ones that conserve water or recycle it; ones that are solar powered; illuminated ones; ones that fold up.
A wide range at Livinghouse
But when it comes down to it all most of us want is an efficient and stylish toilet that suits our everyday purposes. At Livinghouse we have a wide range of classically designed or wall hung and ones where the workings are all hidden behind the wall (or panel). Take a look at our website for more information or pop into our showroom to look at your options.