Can accessories make a bathroom?
We all know that accessorising that 'LBD' (Little Black Dress) is essential, and the accessories you choose can make a big difference to the final look.  The same applies to home interiors.
But you need a good base to start with – like the old saying: 'you can't make a silk purse from a sow's ear!'  So after choosing your new bathroom from the vast choice of designer styles out there, and having it skilfully installed, you're ready to consider some final accessories for the ideal finishing touch.
Shower baskets
There is nothing worse than tripping over bottles and brushes in the shower. A well-chosen wall mounted basket allows easy access and organisation of your toiletries. A quality basket is money well spent as it can last a lifetime. Chrome on brass fittings are a must as these will not rust or de-laminate. There are so many options to choose from: corner baskets, triangular baskets, rectangular baskets. Some have handy hooks beneath to hang up a brush or loofah. Long L shaped baskets are sleek, add a soap tray option.  With all these different options, all available in a range of sizes, you cant fail to find a shower basket to suit your needs.
Holders
Accessories to hold your loo roll, towels, soap, toothbrush, even your bath robe! The differences in quality are obvious here again. Just the weight of a chrome on brass towel rail will speak volumes of the superiority over the cheaper chrome-on-steel options.  The whole range of these matching finishing essentials will enhance the design of the bathroom as well as tidying all those everyday items.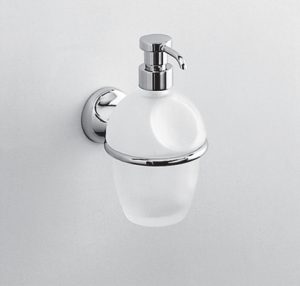 Shower seats
These are not only for the disabled or elderly – it's very useful to have a folding seat in the shower. Linger a little longer in the steamy cubicle, or for ladies – sit whilst you rid yourself of those fluffy legs!
Cabinets
You can never have too much storage, so a bathroom cabinet is a useful accessory to have. Double doored, or single for the smaller room, they have a good amount of space for all your lotions and potions. Mirror-fronted cabinets add an extra dimension, with shaver sockets and lights adding to their usefulness.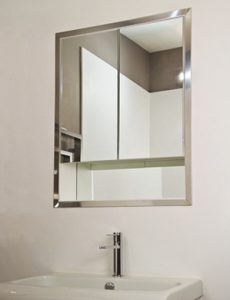 Mirrors
Not just mirrors any more! Illuminated in a variety of ways: strips either side, a lamp fitting at the top, or dressing room style with spots of light. An integrated TV or just a clock display and a radio! For the brave, a small magnifying mirror in one corner is an option. Most of these mirrors have demister pads for a mist free reflection.
A must for soap addicts!
Not strictly an accessory as it must be installed prior to tiling; a water resistant TV with a heated screen for condensation free viewing. Lie back in the tub with a remote control by your side and enjoy another kind of soap in the bathroom!