Choosing a Heated Towel Rail
When choosing a heated towel rail for your bathroom there is one major consideration – modern towel rails or traditional towel rails. Although this is mainly a personal preference, the design of the rest of your bathroom will play a role in the decision.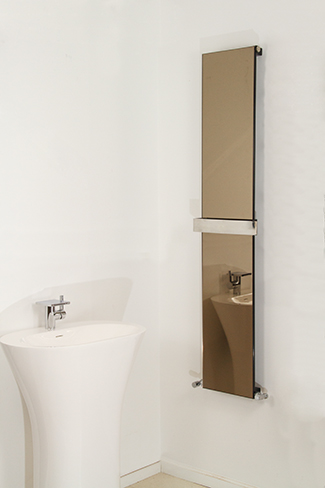 Other than the aesthetics there are some other important factors to consider when choosing your heated towel rail.
The first of these is how the towel rail is going to be heated.There are three ways in which the towel rail can be heated:
Central heating  – the towel rail runs off the central heating.
Electric towel rails – an heating element which  can easily be turned on and off.
Dual fuel  – central heating system ( winter) and an electrical element when heating is off (summer).
The heating output of a towel rail should also be considered. Chrome, nickel and gold plated towel rails (whether it's a steel or brass base radiator) have their heat outputs reduced by up to 20% due to the electro plating finish. This is compared to the painted and stainless steel versions which offer a more efficient heat output.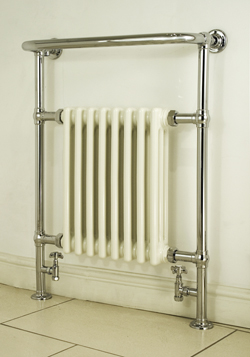 Another important consideration is whether the towel rail is going to be the primary heat source for your bathroom or solely used as a towel warmer. You will also need to think about the number of towels you will have on the towel rail – towels will absorb the heat rather than radiating it into your bathroom. If you are planning to use your towel rail as the primary heat source then the surface area should be large enough to provide enough heat. To maximise the heat output, you might want to consider a column heating radiator built into the towel rail.
Summary
You have a choice between central heating towel rails, electric only towel rails and dual fuel towel rails.
Steel towel rails may corrode more than brass and stainless steel towel rails.
Chrome, Nickel and Gold electro plating finishes reduce heat output by up to 20% compared to painted towel rails and stainless steel towel rails.
If your towel rail is the primary heat source in your bathroom, you should give some thought to ensuring that you choose one that is big enough to perform both functions.
Whatever towel rail you choose, don't for get to indulge yourself in the biggest, fluffiest towels you can find
One Response to Choosing a Heated Towel Rail